Turner Classic Movies (TCM) is the latest network to honor late actress Debbie Reynolds after she and her daughter Carrie Fisher tragically passed away within a day of each other. TCM will air a 24-hour movie marathon, featuring Reynolds' most memorable films on Friday, January 27th. More of her movies are available for streaming on Hulu, Amazon and HBO. Logo recently aired several Will & Grace episodes featuring Reynolds and Sister Act, which featured Fisher as a writer.
Even if you missed Logo's tribute, there are other movies and specials airing this month, honoring both Reynolds and Fisher.
Complete schedule for the TCM Reynolds Movie Marathon
6 am: It Started With a Kiss (1959)
7:45 am: Bundle of Joy (1956)
9:30 am: How the West Was Won (1963)
12:30 pm: The Tender Trap (1955)
2:30 pm: Hit the Deck (1955)
4:30 pm: I Love Melvin (1953)
6 pm: Singin' in the Rain (1952)
8 pm: The Unsinkable Molly Brown (1964)
10:30 pm: The Mating Game (1959)
12:30 am: The Catered Affair (1956)
2:15 am: The Singing Nun (1965)
4 am: How Sweet It Is! (1968)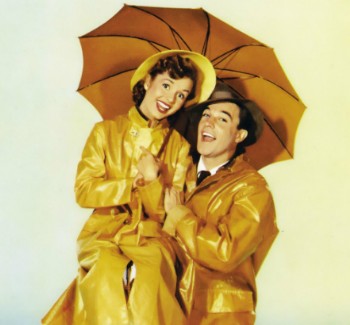 The Red List
If you want to see Singin' in the Rain in the movie theater, you'll have a chance later this month. The movie will be shown in select movie theaters nationwide as part of the TCM Big Screen Classics series, in partnership with Fathom events.
OWN will also re-air the 2011 The Oprah Winfrey Show episode that featured Reynolds and Fisher on January 5th at 10pm. In addition to singing together, the two discussed their relationship, Elizabeth Taylor and Fisher's battle with her mental health.
Watch the promo clip for that episode below.
Reynolds and Fisher on The Oprah Winfrey Show
HBO recently re-aired Fisher's Wishful Drinking, an intoxicating autobiographical stage production. It combines her one-woman show with archival footage and interviews from family and friends. The 75-minute special is available to stream through HBO Now and HBO Go.
HBO also moved up the airdate of its documentary Bright Lights: Starring Carrie Fisher and Debbie Reynolds. The documentary provides a look into the close bond they shared.
"It's life with Carrie and Debbie. It's about both of them trying to stand upright, both having their frailties — age on the one hand and mental illness on the other. It's a love story about a mother and daughter — they happen to be Carrie and Debbie," HBO Documentary Films president Sheila Nevins told Variety.
Reynolds died unexpectedly of a stroke a day after Fisher passed away following a heart attack. They will have a joint memorial service.
Make sure your to clear your DVR and enjoy TCM's movie marathon. What is your favorite movie starring Reynolds? Let us know in the comments below!