In an article published on Saturday at Teen.com, contributing writer Alexandra D'Aluisio, took issue with a certain Teen Wolf fandom calling their fanfic "inappropraite" [sic]. The article calls out "shippers" of Teen Wolf characters Scott McCall (Tyler Posey) and  Stiles Stilinski (Dylan O'Brien). In the article, D'Aluisio copied and pasted excerpts from fanfic all over the internet and linked to coordinating blogs and websites that hosted the writings.
The original title of the article,"11 Scott McCall-Stiles Stilinksi Fanfics That Prove Teen Wolf Fans Are Nasty AF," sparked outrage among fans and writers alike, filling the comments column of the article with messages condemning the site for shaming and bullying. A couple of the fanfic authors also commented in the thread, firing back at D'Aluisio for neglecting to get permission to quote their work:
Alexandra, you do not have my permission to post my work of fiction on this third party website.

Remove the link to my personal blog and personal writing immediately.

This article in itself is a mockery of real people who are doing something to enjoy themselves in a community that shares interests with them, and not for the acceptance, entertainment and certainly not debasement of other people, such as yourself.
Another of the fanfic writers said:
Alexandra, you did not get permission to put my work of fiction that I created for myself because I enjoy writing on this website. Please have it removed immediately. A sincerely pissed off fan.
The website later changed the title of the article to "11 Dirty Scott McCall-Stiles Stilinski Fanfics All Teen Wolf Fans Must See," and offered an "apology" under the byline, stating:
Editor's Note: The original title of this article has been changed, as we realized our word choice was poor. We love all Teen Wolf fans and commend them for their creativity!
Of course, this isn't really much of an apology and basically amounts to a barely uttered "my bad." And commenters on the article were quick to point out that changing the title of the article does nothing to change the tone.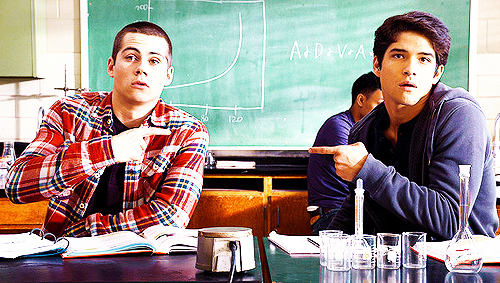 Courtesy friendshipquotes.xyz
But what is it about these fanfics or this fandom that D'Aluisio finds so inappropriate? Is it the fact that fans are shipping two male characters or is it because of the sexual nature of the writing? Perhaps a combination of the two? One can really only speculate. But it does beg the question: Why didn't D'Aluisio aim any of her ire at fanfic featuring a heterosexual couple? She does, however, link to another of her articles citing the "dirty" nature of fans who ship and write about a different same-sex couple, Camila Cabello and Lauren Jauregui, from the girl singing group Fifth Harmony. D'Aluisio uses the same tactic of quoting and directly linking to fanfic examples and refers to them as "really effing dirty" and "inapprop." 
Websites like Teen.com have an obligation to their audiences, especially when the word "TEEN" is a part of their brand, to actively discourage and condemn shaming and bullying of any kind. They have an additional obligation to protect young people from harassment. Directly linking to the personal blogs of these writers in an article meant to cast a negative light on them only opens the door to all manner of online trolling from those who read that article and see an easy target.

As a fangirl and writer for a pop culture website, I see it as my obligation to encourage and respect all fandoms, especially those targeting young people. It is not my job to sit in judgement of the way someone else decides to express their fandom. Because these fandoms are communities of people who come together to share their love for something in a positive, creative way. And when a writer on a prominent website swoops in to crap all over the work of a young, impressionable teen who might be just starting to feel out their own creativity; they are doing the world a disservice. You could be depriving us of a future Meg Cabot (The Princess Diaries), Cassandra Clare (The Mortal Instruments) or Neil Gaiman (The Sandman), all now prominent writers who once wrote fan fiction.

So to the writers who were shamed and all other fanfic writers everywhere: Keep writing, keep posting your work, keep encouraging each other and standing by your fandom. Let your creativity flourish!