'Teen Wolf' wrapped a VERY impressive (and dark) first half of their 5th season tonight, and live recapping this wasn't easy because of my emotions.
Crying. Shock. More crying.
And anger.
You all just want the recap, and I've got it here for you all. So sit back, read, and enjoy.
(Or keep crying).
The episode kicked off right where we left off, with Liam demanding to know why Scott wouldn't use the bite on Hayden. Scott informed his beta that she was far too weak, and that the bite could kill her. They needed to think of something, because Hayden was fading fast...
Meanwhile, a rejected and pissed off Stiles was leaving the clinic when his once trust jeep broke down yet again. I don't like seeing Stiles like this. SCILES NEEDS TO BE REFORMED.
Okay, vent over for now.
Trouble was brewing for someone else though:
Sheriff Stilinski responded to a deputy's call for help and wound up at the school....where the were met by the Dread Doctors. Fortunately, following the opening credits, it was morning and Stilinski was back at his office unharmed. Still not seeing the wool being dragged over his eyes, Scott continued to thank Theo for his help.
BLAH.
Melissa continued to stand vigil with Hayden, while Liam let his anger consume him over the state of Hayden. What exactly was this full moon going to do to Liam if he wasn't chained up?
Stiles continued his depressing run this episode, having to call Malia for a ride. Props to the writers for the clever way of working in his relationship with Scott while discussing the broken down jeep. Still not okay with this though.
Realizing that Malia discovered the truth about Donovan, Stiles made the choice to head to the station and confess to his father what really happened.
Lydia meanwhile, took a break from staying with Parrish and headed to the library where she began to understand more of what Parrish could be. Upon her arrival however, her Banshee instincts kicked in and she sensed that somebody was going to die there. To her surprise though, Theo showed up....and quickly knocked her out after revealing he needed her for "his pack".
In further plot advancement for Malia, she headed back to the cave to try and remember more of her childhood when Theo showed up, and morphed from his wolf self to human form right in front of her.
He began to put his plan to motion as he played with Malia's mind and told her he needed her for his pack and "her help". Would Malia buy in?
Parrish once again went into his trance and broke himself out of jail. With his eyes burning red, Stiles managed to call off the other cops who were ready to draw fire, and Stiles quickly followed the tranced Parrish to wherever he was off to.
In the shocker of the episode, Scott was lured to the library by Theo, where he revealed that he wasn't a wolf:
He was a KIMERA!!
He managed to trap Scott with mountain ash, and then informed him tonight wasn't just a full moon, it was the super moon.
While Melissa worked desperately on Hayden, Malis came face to face with another Beacon Hils Kimera, who she bravely squared off against.
In a tad bit of a strange plot twist, while attempting to get out of the library, Liam showed up and (with his anger feeding off of the super moon) attacked Scott for not helping Hayden. The former protege attacked Scott with all his might and things weren't looking good for the Alpha.
So, my question?
How did Liam get past the mountain ash? Did Theo, knowing how angry Liam was, let him past?
Oh well.
And now for the most exciting part (so far) of the episode:
While fighting off the Kimera, Mlia got some surprising assistance:
Braeden was BACK!!
Was Derek there too!? Okay, I'm getting ahead of myself.
Braeden informed Malia that the Desert Wolf knew that she was alive, and was on her way back to Beacon Hills.
Upon discovering Parrish taking more bodies, Stiles found Theo and told him they needed to find Scott. Then came the RELEVATION: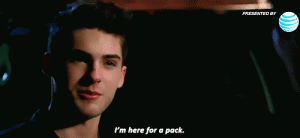 Tumblr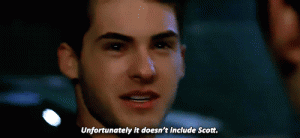 Tumblr
There you have it.
The plan all along was for Theo to build his own pack which would include the were-coyote (Malia) the Banshee (Lydia) the 'werewolf with anger issues' (Liam) and Void Stiles. Theo's plan was fully unveiled and , rightfully so, it earned him a few punches from an irate Stiles. It didn't help matters that Theo revealed he had done "something" to Sheriff Stilinski.
The fight between Scott and Liam intensified, but it took a distraught Mason to arrive and deliver the heartbreaking news that Hayden was gone to break Liam from his anger. He rushed off.
Theo quickly arrived and did the job himself:
He stabbed Scott repeatedly in the gut with his Kimera claws, and left the Alpha seemingly dead. The episode concluded with a brutal montage:
Liam crying as Parrish arrived to take Hayden's body, Stiles discovering his father bleeding but still conscious, and Melissa determined to resuscitate  her son....which WORKED!
Theo was going on full rampage at this point, upon using Lydia's banshee memories (storing her at the Dread Doctor's hideout ). He discovered where the Nemeton was, and injected all of the bodies, including Tracy, Corey, Donovan, AND Hayden, with a serum. They all quickly arose and wondered what was happening:
Until Theo informed them they were HIS pack. And he was their ALPHA.
Theo has his pack of Kimeras.....and all Lydia could do was lay on the ground and panic.
AND THAT WAS IT.
..........................
I'm supposed to wait?!
When you leave it like THAT!?
What did you guys think of the mid-season finale of 'Teen Wolf'?