The Empire Stage Hall at New York Comic Con was full of fangirls and fanboys alike. Some of the attendees wore jerseys - McCall, Stilinski, Whittemore - but all supporting the Beacon Hills lacrosse team.
Cody Christian (Theo), Dylan Sprayberry (Liam), Jeff Davis (series creator and executive producer), and Tyler Posey (Scott- THE Teen Wolf) came out on stage. A thunderous roar, not a measly howl, greeted the stars and it wasn't long before they gave us an exclusive sneak peek of season 5B.
Jeff Davis was ecstatic to confirm that JR Bourne and Deucalion would indeed return this season, and on top of that, Deucalion's eyes aren't the same! The commentator asked if Davis was happy to have Bourne on set, to which Davis replied, "I'm actually happy to have him here."
"I know that whatever he brings into the show this season, you're going to love it," Cody Christian said about Deucalion actor Gideon Emery.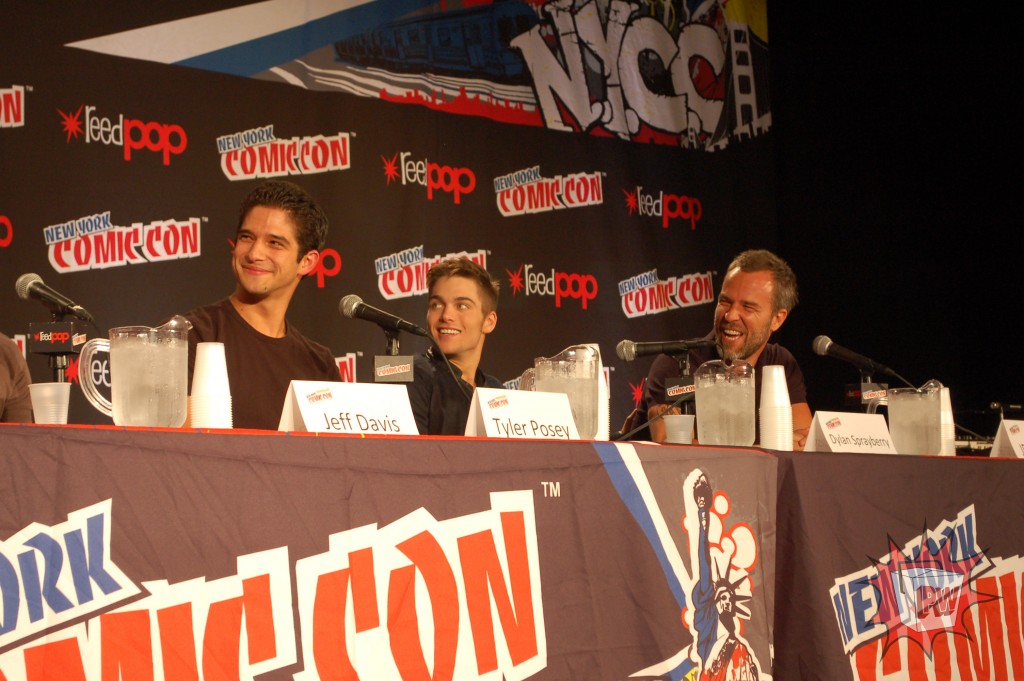 Property of Ariel Bradford/PopWrapped
JR Bourne walked on stage and jovially hugged Tyler Posey on the way to his seat, while waving at screaming fans. On the show, Bourne plays Chris Argent, the father of Allison Argent.
I asked Tyler Posey how the relationship between Papa Argent and Scott will be now that Allison is gone and Scott has a new girlfriend.
"There's nothing he can do. Scott has to move on. Chris has to move on. It's part of the grieving process. He'd be an insane man to be mad at Scott. Sometimes people need a companion to handle grief with. I'm sure Scott cries to Kira." Of course I started tearing up here. "Of course [Chris will] talk to Kira. He would be a weird, immature person if he excluded us."
Jeff Davis also revealed that another Argent will be returning this season, but wouldn't tell us who!
I spoke with Davis and asked him about the possible return of Colton Haynes, who played Jackson Whittemore in the first two seasons of the series:
If I were to bring him back, he'd be a good guy. We haven't talked to him about it. There are other actors we've talked about coming back, so there may be a surprise or two in 5B. We're still working on it.
I asked Davis about his former comment of wanting the end of the series to be Scott and Allison, Stiles and Lydia. Now that Allison is gone, is he going to split up his ideas of Stydia, too?
We'll see what happens. Things change, they do. The fifth season of the show, you're writing things you'd never imagine would happen. We shot the seventy-fifth episode yesterday! It's mind-boggling. There is more to come this season.

Property of Ariel Bradford/PopWrapped
During the panel, the cast spoke of their favorite Teen Wolf entrances. Tyler Posey painted a scene for me when I asked about his ideal scene in a standoff against Theo's pack:
It would be mirror images. My pack and Theo's pack, each of us have our own person we're going after. Me and Theo staring each other down. My pack behind me, his pack behind him. They rush at each other, but we stay. We stare at each other while all of this chaos happens around us. This slow motion, we're locked eyes, then out or nowhere, ROAR! We rip each other apart. And then... I Win. But nobody dies.
I asked Cody Christian and Dylan Sprayberry about the future of their characters on Teen Wolf. 
Cody began talking of his new pack. "I'm excited to see what new despicable things Theo will do... there will be darker things ahead... I'm excited to see Theo's pursuit of what he desires. He wants to become a real werewolf."
"A weel wewewoof," Sprayberry interrupted.
"That is the hardest thing to say," Christian agreed. He continued, "The bad guy or the villain... they never see themselves [that way]. He [Theo] keeps everything spontaneous in his own eyes. I mean, I guess he's a pain in the a$$."
"We don't really train on set, but we try to get together as much as we can for fight scenes so we can do as much of it as possible," Sprayberry detailed about his involvement in stunts. He and Christian began to finish each other's sentences talking about the Chicken vs. Peter in Family Guy.
Sprayberry embellished, "Every fighter's style is different." He explained how a martial artist may fight differently from someone raised with different training, so an outcome is always unexpected on Teen Wolf.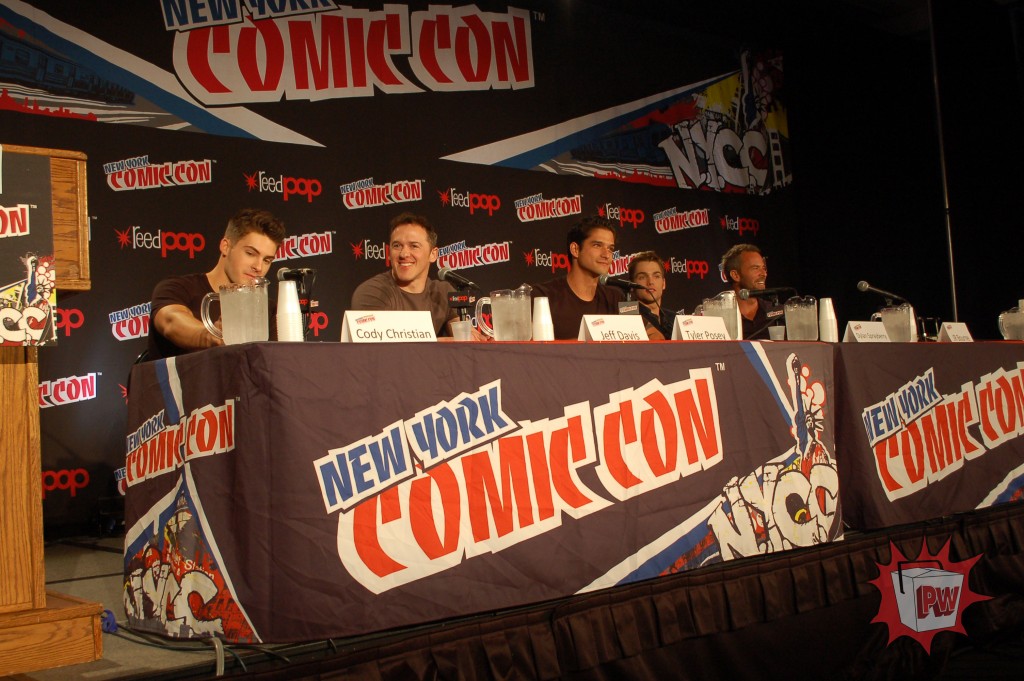 Property of Ariel Bradford/PopWrapped
One memorable incident at the panel was when a fan approached the microphone to ask a question. She introduced herself as the girl on the internet who covered Tyler Posey's song and posted the video to YouTube. Posey interrupted her. "I'm starstruck", he exclaimed, stammering through how appreciative he was of her video. He even then remembered her name before she said it!
The Wolf Pack is also saying a sad goodbye to Mondays; Teen Wolf will now be on Tuesday nights (#TeenWolfTuesday? Somebody please make something better...) at 9:00pm EST on MTV. The first half of Season 5 will be available on DVD December 15th. (That's only ten days before Christmas!)
"I'm always excited about something new on the show!" Tyler Posey enthusiastically spilled. "What's really cool about this season is we can start rekindling relationships and friendships. The whole point of the season is getting the pack back together. This time it's different. Scott is stepping up to be a leader again. And we're bringing comedy back to the show! One of my favorite parts about Teen Wolf is that is was perfectly well-rounded, so we're bringing comedy back."
During our meetings, Sprayberry and Christian gushed about their love for Harry Potter, and Posey was awestruck by my technology before talking about his upcoming projects to promote mental health awareness. Stay tuned for more behind the scenes Teen Wolf goodies!
[gallery type="slideshow" ids="112200,112197,112206,112207,112199,112198"]