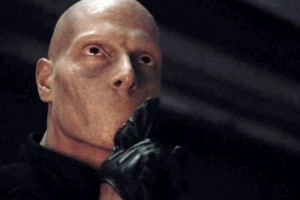 Courtesy of StarPulse
Shane Avery
Senior Staff Writer
Teen Wolf
so far as much as I have, and now I'm here to recap the show for you every week. After last weeks return of normal Derek, the heist of the Hale family fortune, and some bad ass fighting from our gang, it was time to move the story forward. What better way to do that then the always awesome cold opens? It wouldn't be
Teen Wolf
without an axe wielding maniac chasing a brand new character named Sean, who was shirtless.
Teen Wolf
clearly knows its target audience very well. Sean managed to barricade himself in his bedroom bathroom, before hearing a menacing voice coming through the locked door. When the maniac burst through, Sean had broken the window and taken off. It was then revealed that it was the mouthless man that has been popping up in the promos for the season. Lacrosse was officially back as Scott and Stiles got a glimpse of a brand new player named Liam (anyone else LOVING the additions of these guys?) and were immediately drawn to the new goalie who had some pretty impressive skills. And in her first appearance this season, Mama McCall found herself face to face with Sean, who staggered into the hospital all bloody, before collapsing. Kira was also having personal problems, as she discovered her parents were putting their house up for sale, with plans to move back to New York City.
Her day got a little bit better though when Scott landed a peck on her lips (without even realizing it himself). I'll always miss Allison, but these 2 are adorable together. The look on Kira's face was perfection, and Scott's realization of what he did was hilarious. 
More lacrosse action as Scott was bitten by the green eyed monster of jealousy as new player Liam stole the show. It's pretty evident at this point that he's going to steal the spotlight..... and Scott's captain title.
Speaking of lacrosse though, who else missed Coach? I know I did!!
After Scott and Stiles took Liam to see the school nurse (after finally getting some retribution for his amazing skills) it appears Coach now has Kira in mind for lacrosse as she randomly caught an errant ball. Her day got even better when Scott planted a proper kiss on his girlfriend for the first time. Lydia meanwhile, showed up to the murder house and was confronted by Parrish as to why she was there. Lydia wound up finding a secret passage in Sean's house, and entered it with the deputy.  They ended up finding a secret room that was filled with dead bodies in bags.
After getting a frantic call from Lydia regarding what her and Parrish found, Scott went off to find Sean. Unfortunately it was Mama McCall who went to see him first, and found him feasting on the security guards intestines and glowing eyes!!!
Scott arrived just in time to save his mother, in full werewolf mode, but unfortunately Sean also found a limping Liam and forced him up to the roof. Sean revealed he was a windigo, and almost tossed Liam off the roof. In order to save Liam, who was about to fall, Scott had to bite his arm to hang onto him. The mouthless man then stabbed Sean in the back, killing him, and Scott was able to save Liam.
So it appears the mouthless man was actually doing some GOOD hunting Sean and his family, but what does this all mean for Scott? And did Scott bite Liam hard enough to turn him? Do we have a new soon to be werewolf? The episode this week highlighted the fun side of what makes
Teen Wolf
so lovable, even with the darker tones. I have a feeling this mouthless man was sent to Beacon Hills to eliminate EVERYTHING supernatural, which will include Scott, Lydia (the banshee), Derek, Peter... and hopefully Kate Argent. What did you guys think of this weeks episode? 
Keep Up With PopWrapped On The Web!