Wolf pack REJOICE!
Moments ago during the San Diego Comic Con, MTV smash hit show 'Teen Wolf' was announced to have been renewed for a 6th season!!
The Jeff Davis run show will return next summer for 20 additional episodes.
Also, check out the INTENSE new trailer for the remainder of the season below!
[youtube http://www.youtube.com/watch?v=5ZxgQ8NnlQk]
Okay...so I'm not okay after watching that.
Kira attacking Scott...Scott and Stiles fighting...Malia squaring off against The Doctors...
SO. MUCH. TO. TAKE. IN. 
On the plus side we now have season 6 to look forward to, and right about now, yours truly is going to say something he never thought he would say:
This show, is my new 'Buffy the Vampire Slayer'. 
Am I right!? 
Are you guys excited for season 6? What are you thinking of season 5 so far?
Do you still miss Derek aka Tyler Hoechlin? 
Finally, can we all take a second to appreciate Dylan Sprayberry's muscles in that tank top?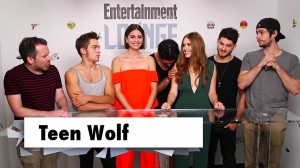 EW
FOR REAL.