Keep your tissues at the ready, as John Green's
Looking for Alaska
has found its screenwriters.
The Hollywood Reporter 
reports that Scott Neustadter and Michael H. Weber have
officially been announced
as the screenwriters for the movie, which is based on Green's debut, Printz award-winning novel,
Looking for Alaska.
It turns out the studio are keeping it in the family, so to speak. The pair are seasoned screenwriters, having worked on the screenplays for upcoming
Paper Towns—
starring Cara Delevingne and Nat Wolff--and last year's wonderful tearjerker
The Fault in Our Stars.
And, continuing with the good news, it has been announced that Temple Hill producers Wyck Godfrey and Marty Bowen will once again produce an adaptation of one of Green's novels. You could say they were given the
Green
light...but you probably shouldn't. Even John Green approves this message; he tweeted his approval on Feb. 27
: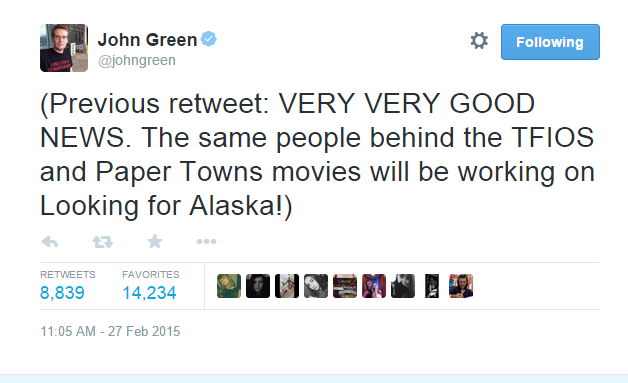 Courtesy of Twitter
For those of you who aren't in the know,
Looking for Alaska
is the story of Miles, a young guy who moves to a boarding school and whose worldview gets turned upside down when he meets Alaska Young. If people are rain, Alaska is a hurricane of emotion and passion, and Miles can't help but fall in love with the mysterious girl. Intrigued? You should be. It's a wonderful book, from start to finish, with that patented John Green style of writing that makes you laugh and cry simultaneously, and characters so full of life that they burn brighter than the sun and echo realness from every part of every word. Not to wax lyrical, but you should read these books. Last year, when it was declared the book was being optioned for adaptation, director Sarah Polley was announced as director. Polley previously directed
Stories We Tell
, a documentary about her family and how stories develop. However, amid all of this news, it has not been announced whether Polley is still attached to the project, so watch this space. So Popwrappers, are you excited to see
Alaska
come to life on screen? Any thoughts on who should play Alaska, Miles, and the gang? Let us know.
Keep Up With PopWrapped On The Web!