Tayla Whitehead
Staff Writer
@taylaalaaaa If you never understood why space is pretty much the coolest thing ever, this incredible picture is sure to convince you! The Hubble telescope has amazed the people of earth for over 20 years with the beautiful and almost unbelievable images it has taken, and once again the newest image has us in awe of our universe. The picture is being called, "the most comprehensive picture ever assembled of the evolving Universe — and one of the most colourful" by astronomers using the Hubble Ultra Deep Field telescope. To simplify the rather complicated space talk, I can explain what this image is doing for astronomers: Certain stars in our galaxy emit ultra violet light and astronomers were unable to get direct observation, kind of like us trying to examine the sun with the naked eye. But now with the ultraviolet data added to the Hubble Ultra Deep Field telescope using the Hubble's Wide Field Camera, astronomers get access to direct observation, almost like if we received magic sun glasses to check out that big ball of gas! Yes, space just got even more awesome and with this breakthrough there are so many more discoveries waiting to be made. There are an estimated 10,000 galaxies in that photo alone, which is absolutely mind-blowing. It's just another reason to stare out into the universe, if you ask me. HubbleCSA has released a video to give you a further grasp on just how far away those pretty little galaxies are: http://youtu.be/peqCfW8hSzQ Check out the spectacular image in full size below: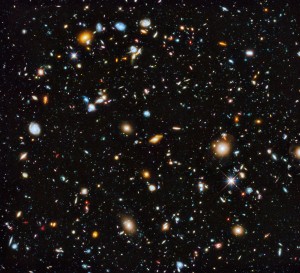 Courtesy of SpaceTelescope.org
Keep Up With PopWrapped On The Web!