RedZone Records has somewhat developed a notorious reputation as of late. Collaborations with artists such as Chris Brown, Mariah Carey, Rihanna, and Justin Bieber, have left very few to doubt their startling and cumulative success. The corporation, founded in 1995 by the Stewart brothers, is looking to continue their inspired legacy with the addition of an upcoming hip hop/alternative duo to their endowed spectrum of artists. Best friends Jonny G and Donrique, otherwise known as The Pilot Kids, have been living the dream  since moving to Los Angeles a year ago after getting signed to RedZone Records. They embarked on their ambitious campaign to pursue their dreams of becoming a major force in the music industry, steering their lives the ways they wanted them to go. Also, to establish a fan base, encouraging fans to not only pilot their own lives, but to stay true to themselves in the process. With a successful EP release,  shout-outs from celebrities Dane Cook and Nicole Scherzinger, and a video re-post from the highly popular BroBible, The Pilot Kids are well on their way. Swift spitting rap verses with captivating pop choruses, electro beats, guitar rock, and even the occasional scream make up the composition of the duo. An exploration into differing genres is a rarity in modern music, and as a result The Pilot Kids don't even know what category to place themselves in. It's safe to say that they are far from mainstream. Below, in an exclusive interview with PopWrapped, The Pilot Kids talk
Open Fire!
, RedZone, and Ping Pong. So buckle your seatbelts, it's going to be a bumpy ride!
Q: How did you both discover your passion for creating music?
Jonny: I was forced pretty heavily by my parents to take piano around age 7. At the time it was annoying but it completely laid the foundation for my understanding of music and why it works the way it does. Donrique: Growing up, listening to my Dad jam to Jethro Tull throughout the house on his flute was pretty much a full-time job. I got infected with the music bug so he gave me his old acoustic guitar and taught me some basic chords. I became obsessed with the instrument and its ability to adapt to so many different styles and genres of music.
Q: When you were younger, you both stood out in terms of creativity, with Jonny actively interested in Drama, and Donrique into Graphic Design. How did two guys with such different interests meet and discover the other's musical abilities?
A: We both met in a photography class in High School. I (Donrique) photoshopped Jonny's face onto a squirrel's body (he loved it) and we've been making artsy things together ever since. We used to go to parties together in high school and jam on the acoustic guitar to whatever popular music made everyone want to get more drunk. We literally could not walk into a party without someone saying to us "Hey guys, glad you could make it…. where's the guitar?!"
Q: Do you have any advice for other artists on YouTube who are looking to get their work seen by record labels like RedZone?
A: MAKE DOPE SHIT. Every time we upload something that is truly awesome, things happen. Also-- learn as many skills (filming, video editing, music production, mixing, photoshop, etc.) as you need in order to accurately express your vision without having to get too many other people involved when you are bringing it to life. Record labels look for authenticity, originality, and they especially look for your ability to do lots of different things well.
Q: Have there been any moments where you doubted your ability to gain success in the music industry and if so, how did you overcome this?
A: We've certainly had many moments of frustration and doubt when trying to reach certain goals, but as a whole, we've never doubted our abilities to be successful artists. Art and music are ingrained into who we are. As long as we're being ourselves and working to express that, we've always been very confident that everything else will fall into place.
Q: Open Fire! is available on SoundCloud, and has over 20,000 listens in total. Which song did you most enjoy writing?
A: Probably "Doin' It". We wrote that song when we went to record our album in Atlanta, and it was the first song we wrote outside of our basement studio (the Art Fuck Dungeon) in New Jersey. We wrote that song with Tricky Stewart, who also worked on "Baby" by Justin Bieber, "Umbrella" by Rihanna, and "Single Ladies" by Beyonce.
Q: If you had to pitch Open Fire! to big time music promotion businesses using only four words and a diagram, what would they be?
A: "Fuck genres make music." The diagram would be the overlap of everyone's musical tastes and conceptual tastes— perhaps some sort of Venn Diagram shape where we could communicate that everybody just wants to hear music about 1- Love and 2- Happiness/Inspiration. Genres and soundscape-consistency are of little importance when attracting a mass audience.
Q: You recently produced the song for Showtime's commercial in the huge Mayweather vs Pacquiao fight. How proud were you when you first heard it back?
A: It was pretty insane to be a part of such a massive event in any way. We went all out for that song as far as learning a lot of new production techniques, and we're really proud of it!
Q: Give us one unusual fact about yourselves.
Jonny: I can beat you at ping-pong (whoever is reading this). Donrique: I have a strange bump on my head.
Q: On a more random note, Marvel or DC?
A: Easy -- Marvel.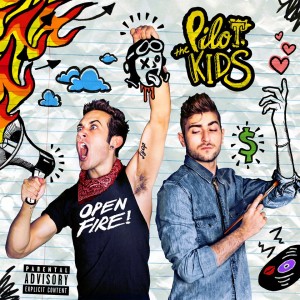 Open Fire Album Art
If you want more of The Pilot Kids:
Check out their website
ThePilotKids.com
 for a FREE download of their debut album
Open Fire!
Check out their Facebook page:
facebook.com/ThePilotKids
Check out their YouTube page:
youtube.com/user/thepilotkidsmusic
Follow them on Twitter at
@thepilotkids
, 
@donrique
, and 
@JonnyGorenc