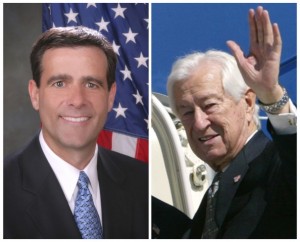 Courtesy of Reuters
Jonathan Frahm Staff Writer
lost an arduous runoff on May 27
. This makes him the first incumbent Congressman to be defeated during this set of voting primaries. In his place,
CNN
and other news outlets are anticipating 48 year-old U.S. Attorney John Ratcliffe's victory over Hall in the GOP contest for the Texas 4
th
Congressional District. This is largely thanks to heartstring-striking chords brought about in past speeches by Ratcliffe in which he called for "new leadership", also promising to leave office after 8 years. Ratcliffe also has the support of major national conservative groups such as the Senate Conservatives Fund. During the March primary, Hall was able to best Ratcliffe by bringing in 45% of the vote as compared to his direct opponent's 28%. It was not enough to completely fight him off however, with spectators believing Ratcliffe has made up more than enough ground to best Hall when it matters most. Rep. Hall was first elected to the House in 1980. He was hoping for an 18
th
term — which, reportedly, he also wanted to be his last – but lost despite powerful tea party backing from such entities as retiring Minnesotan Rep. Michele Bachmann. Despite his obvious strategic advantage, Ratcliffe thanked Hall for his service last Tuesday, having stated that Hall "served us admirably" and wished him the best moving forward.
Keep Up With PopWrapped On The Web!