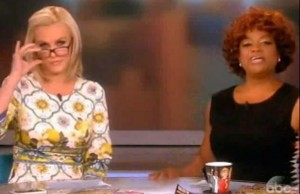 Shane Avery
Senior Staff Writer
The View
is down to just Whoopi Goldberg as host, as Sherri Shepherd and Jenny McCarthy have left the program. While the initial report was saying they were given the boot, Sherri (and ABC) released separate statements regarding the departures: Sherri started off by saying:
It's been seven wonderful years on The View and after careful consideration it is time for me to move on. I am extremely grateful to Barbara Walters and Bill Gedde for giving me the opportunity. I look forward to the business opportunities that lay ahead for me and I am incredibly grateful to my View family and my fans for supporting me on this journey.
By making it seem like it was her choice, this could have been ABC's way of giving her an out. Meanwhile, ABC released a brief statement, thus confirming McCarthy's departure as well:
The View will be moving in an exciting new direction next season and ABC has made decisions to evolve the show creatively.
The show is said to have been in a downward spiral since Jenny joined the program, with some saying it threw off the chemistry of the show. There is also confirmation now that founding member, (along with Barbara Walters, who retired last month), Bill Geddie has also gotten the axe.
TMZ
is actually stating there is a good chance the program could see former co-host and moderator Rosie O'Donnell return with Whoopi and other unnamed candidates at this time. After retiring from the show last month, Barbara Walters is scheduled for tomorrow's program, which will reportedly address the issue. Thoughts??
Keep Up With PopWrapped On The Web!