Annnnnnnd we're back! The Season 6 premier of The Walking Dead has come and gone and, nearly 15 hours after it ended, I'm STILL not sure how I felt about it.
The entire episode was convoluted, jumping back and forth between present day and just after the Season 5 finale ended. Flashbacks were in black and white while present day was in color.
https://twitter.com/PopWrapped/status/653377815681871872
From what I could surmise, they had spent the entirety of the off season working on a plan to clear a nearby quarry of the thousands of walkers inhabiting it. It was hard to figure out if the quarry is important to them in some way, or if they just decided leaving them wasn't worth the risk. In fact, it was really hard to follow anything in this episode. But here's what we do know:
Rick missed his calling as a military general. When he made all of those Alexandria people fight walkers on their own, with no previous experience, I thought to myself, "He's really lost it now. He is sentencing these people to die." But, in the end, the veteran badasses ended up stepping in and saving the day, much to Rick's disappointment.
https://twitter.com/PopWrapped/status/653390808201170944
Ethan Embry was my favorite part of the episode. Not just because he's Ethan Embry, but because he was the only with enough balls to look the Ricktator in the face and ask him what in hell he was thinking. He also plotted to kill him, which was obviously foiled by Eugene, because Eugene ruins everything. But then they had to kill him. THEY KILLED HIM VIA WALKER ATTACK. Why?! Why would you give me Ethan Embry for one episode just to brutally slay him?! Kirkman, you are now officially on my shit list.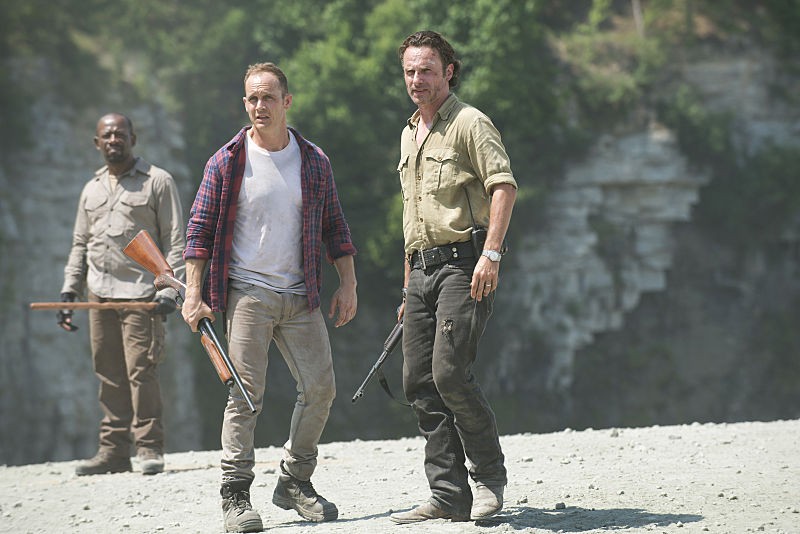 Gene Page/AMC
Carol's part was essentially nonexistent. She had a few lines in which she kept up her Susie Homemaker facade and then that was pretty much it until the very end, when she ran out guns blazing.
https://twitter.com/PopWrapped/status/653388010839539712
What an utter waste of a spectacular character. #JusticeForCarol!
Michonne really only had some protein bars to worry about, Eugene found his brother-in-hair in Heath, Glenn and Maggie decided to take the murderer under their wing and Carl was nowhere to be found. Daryl was almost a nonentity and who even knows about Jesse and Deanna. Why is it that, when episodes are given extended time (last night's premier ran 90 minutes), less happens than in the normally allotted hour? It's not cool, and I don't much appreciate a premier that consisted of 75 minutes of filler and 15 of actual action and plot progression. We've been on this ride far too long to be done dirty like that.
Most of the action occurred in present day, when the group and the Alexandria residents are finally putting their plan into action. The plan basically consists of herding the thousands of zombies into some semblance of a line by luring them with flares. Then Daryl on his bike and Sasha and Abraham in a car were to guide them twenty miles outside of Alexandria.
Everything was going along swimmingly until somewhere, close to Alexandria, some unknown asshat started blasting a horn, successfully pulling the walkers off their routed course and back toward their sanctuary. Who could be the horn blower? Could it be Carl, who we did not see once in this episode?
I suppose we'll have to wait until next week to find out for sure.
For this week's recap, I'll wrap it up in a pretty little bow: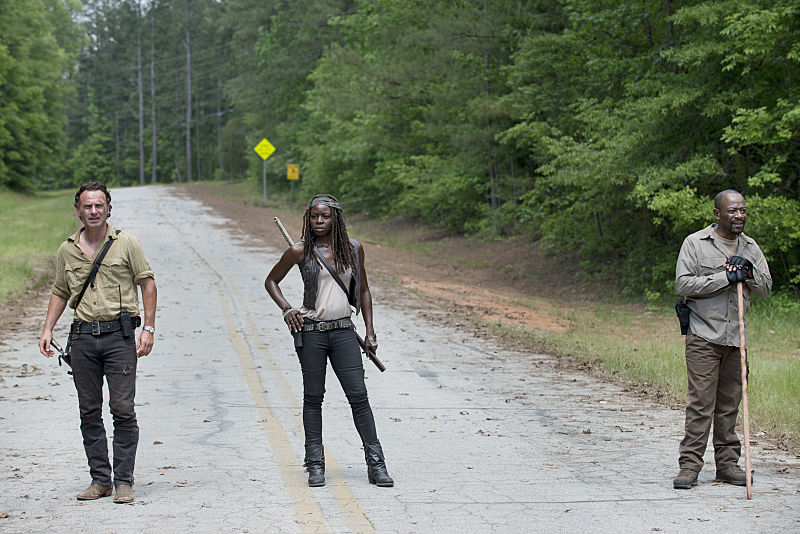 Gene Page/AMC
-Morgan may be the only person that can keep Rick in check
-I swear if Daryl, Carol and Michonne don't become more than background props I'm revolting
-Oh Carter, we hardly knew ye. RIP, Ethan Embry.
-I fear that the Alexandria residents are ultimately going to regret giving Rick the reigns. We all know what happens to him when a little power gets to his head
Until next week, Deadheads. Stick with me as I'll be recapping The Walking Dead for the duration of the sixth season!