Dani Strehle
Senior Manager
Well Deadheads, the moment we have all been waiting for has finally arrived.
The Walking Dead
is finally back! And I gotta say; I'm pissed. Like, really pissed. I thought this episode was honestly kind of terrible. Let me explain why. We saw three characters only; which really ended up being two characters, since Rick spent the vast majority of the episode in a coma-like state while his body [hopefully] healed from the massacre of The Governor's fists. Therefore, we were left with nothing but Carl and Michonne. Michonne's part was the best part of the episode, without a doubt. I'll get to that later. Carl's storyline was atrocious. Really, I pretty much laughed at him the whole time. The situations he found himself in were just so incredibly absurd! The entire thing was like a comedy of errors, with Carl's insufferable "I win" as the laugh track. He raged at his comatose father and blamed him for the entire world's wrongs. He acted like a baby. And, admittedly, the poor kid has had the worst childhood imaginable; but for some reason, I can't grant him any leniency on this week's antics. He was so cocky and overconfident. He cost them precious bullets and nearly got himself killed, which easily could have also resulted in Rick's death.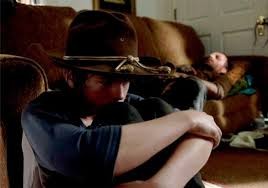 Courtesy of Comicbook.com
Michonne, on the other hand, solidified her reign as Queen of Zombie Apocalypse. This woman can do no wrong. This is the first episode where we're given a deeper look into Michonne's backstory; and it's a sad tale, to be sure. While a lot of it is left up for us to garner from her silent prayer to her dead lover, we got to see her lover, alive and well; as well as her precious toddler son and a family friend. We also learn that her lover and said family friend were her original armless, mouthless walker guards that she had in chains when she first appeared. She also hints that her lover killed himself and their son because he once the zombies took over, he didn't think there was anything left to live for. Something she appears to have a very hard time forgiving him for. And who can blame her? Michonne also ends up slaying an entire gaggle of walkers with nothing but her sword and her rage by her side. She uses her invaluable survival and tracking skills and ends up finding Rick and Carl. Which, don't get me wrong, I'm glad about. But the whole thing seemed so incredibly far-fetched. You're probably thinking, "Dani, this is a show about zombie apocalypse, the entire thing is a lesson in far-fetched." And you're not wrong; this certainly isn't the first time that the impossible has happened on this show. But there was something about this episode that felt inorganic, gratuitous. It was most definitely not what I was expecting for the episode back from midseason hiatus. Luckily, next week's installment looks far more promising. I mean, because Daryl. Daryl's back. Until then Deadheads!
Keep Up With PopWrapped On The Web!
http://www.PopWrapped.com
http://www.Twitter.com/PopWrapped
http://www.SoundCloud.com/PopWrapped
http://www.Popwrapped.Tumblr.com
http://www.Facebook.com/PopWrapped
http://www.Instagram.com/PopWrapped
http://www.Pinterest.com/PopWrapped
http://www.YouTube.com/PopWrapped