Christa Tintelnot
Staff Writer
@christamarie123 Over the weekend, an epic photo was taken. Jason David Frank, who you probably know as the Green Ranger from Power Rangers, met up with Norman Reedus who plays Daryl Dixon on The Walking Dead. What was the outcome of this meeting? Only one of the coolest celeb photos of recent history, that's what! Not only did these two meet and get a photo taken, Frank posed as the Green Ranger!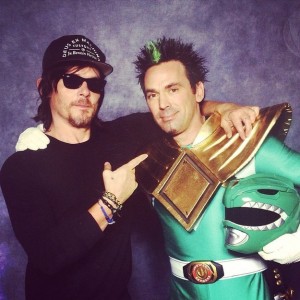 Courtesy of Buzzfeed

What do you think of the photo? Pretty cool, right!? Could be possibly dream of Power Rangers/Walking Dead crossover episode? Probably not, but at least we have this picture to stare at in awe. Keep Up With PopWrapped On The Web!