Have you heard of the Well Reds? Well sit back and relax, because I'm about to introduce you to this incredible new band. First, a look at the band's official bio, as provided by their lovely publicist, Iris:
Made up of Jeremy Ezell (Lead Vocals, Guitars, Keys), Torin Degnats (Drums), and brothers Sean (Vocals, Guitar, Keys) and Rex Crawford (Bass), The Well Reds are an Atlanta based quartet gaining recognition for their sophisticated and honest alternative pop rock sound.  These well-dressed southern boys boast a sound reminiscent of One Republic, Imagine Dragons, Maroon 5, Coldplay and American Authors.   Known for their infectious melodies and polished live performance, The Well Reds have the ability to perform and engage a large and diverse audience letting their natural and authentic chemistry shine on stage. They have  opened for reputable and national touring acts such as Hot Chelle Rae, Parachute, Daughtry and Minus The Bear, proving that they can hold their own. With the help of Zach Odom and Kenneth Mount, known for his work with Cartel, Mayday Parade and All Time Low, the Well Reds released their debut EP, Violet, in 2011.  The EP features relatable and uniquely distinctive songs that tell of the seasoned  musicians'  life experiences and inner energy.  Title track "Violet" is an emotional and timeless pop anthem combining deep piano harmonies with powerful vocals that reinforce strong lyrical composition. Since their inception they have achieved many accolades such as becoming a finalist in the Season 1 OurStage Panel as well as being announced as winners of the New Music Seminar LA 2011 "Live At Roxy" Competition.  Producing thoughtful and consciously aware pop music, The Well Reds have been heavily involved in making an impact beyond music.  Similar to the way they have engaged with audiences on stage, they have contributed to organizations such as the Songs For Kids Foundation and Rock By The Sea, dedicated to supporting charities that provide direct services to those in need. Now The Well Reds are preparing for their forthcoming full length album, Volume.  Recorded with the help of Grammy Award winning hip hop producer Joseph Prielozny, The Well Reds have found a happy middle ground and  distinct sound pallet for each song.  The record is authentic and cautiously optimistic, covering the highs and lows in the life of touring musicians.  They have tailored cautiously optimistic tunes with and well crafted videos such as "Carousels" and "BPM (I Feel Rhythm)" that impress and garner admiration.
Have I piqued your interest? Good. These guys are ready to explode, and now you're prepared for the pyrotechnics. Take a look at their video below, and judge for yourself. Catchy, right? I love the infectious beat and versatile vocals of this song; but, as a child of the '90s, I was particularly smitten with the old school Nintendo graphics. So what are you waiting for? Check out the band on all of their social media platforms (
Facebook
/
Website
/
Twitter
). You can also check out more of their songs on their
YouTube channel
. Like what you hear and feeling generous? The group has started a Loudfund campaign to help bring their full EP to you even sooner. You can donate to their efforts
here
. You can also pre-order
Volume
in the iTunes store
here
. Also, is "The Well Reds" not one of the greatest band names ever? I would add them to my playlist based on that alone! Just look at this crazy adorable picture of them living up to their moniker.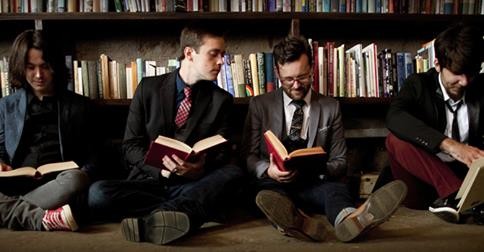 Facebook
So what are you waiting for? Grab your earbuds, prepare your fingers for clicking and immerse yourself in the magic of this talented quartette.
Keep Up With PopWrapped On The Web!