Ben Patton
Senior Manager
@CincyBen
It's not always sunshine and rainbows, but thanks to Monroe County Circuit Judge Luis Garcia, Florida's gay-marriage ban has been ruled unconstitutional. According to the
Human Rights Campaign website,
  Judge Garcia wrote, "This court concludes that a citizen's right to marry is a fundamental right that belongs to the individual." The ruling was stayed until Tuesday, July 22, at which point same-sex couples in Monroe County can begin obtaining marriage licenses, unless a stay is requested by the state attorney general and granted by the state court of appeals or Florida Supreme Court."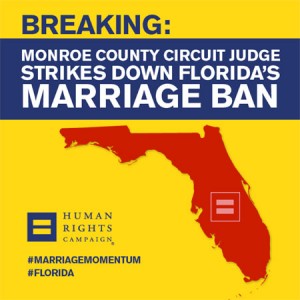 Human Rights Campaign (HRC) Legal Director Sarah Warbelow weighed in on the swing-states decision saying, "Today's court ruling in Florida is further proof that America is ready for marriage equality nationwide." "Unfortunately, same-sex couples in a majority of states still don't have the right to marry, creating a confusing patchwork of marriage laws across the country.  This is not only unsustainable, but it's also unconstitutional," she continued. HRC's website also states that "Same-sex couples 
can legally marry
 in nineteen states and the District of Columbia, while 
31 states
 have a law or constitutional amendment restricting marriage to the union of one man and one woman." Learn more about this and other marriage equality cases at
www.americansformarriageequality.org
.
Keep Up With PopWrapped On The Web!