Kate McHale
Senior Staff Writer
@KateMcHale42
Those pesky hackers are at it again! After Chris Colfer's own account was hacked, they have since taken aim at a different
Glee
star, Lea Michele. Twitter was once again marred by shock and awe when Michele "tweeted," "Before this gets out to the media, I would like to announce to my fans that I am pregnant #BabyBoy." The tweet has since been removed, but not before its image was plastered all over the Internet.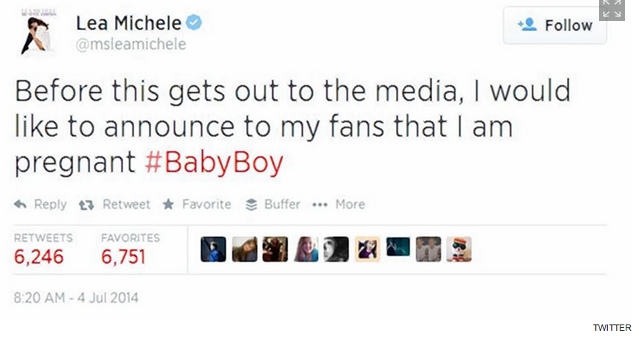 Courtesy of Lea Michele/ Twitter
Oh brother. Let the hysteria begin! Of course, some of her followers were quick to realize this was just the doing of an annoying hacker. At the same time, others weren't quite as fortunate. Lea's rep was quick to dispel the rumor and clear the air that yes, she had indeed been hacked. Friendly advice to all celebrities: go ahead and change your passwords now, or you might be next! Especially if you're a part of the
Glee
cast. It appears hackers are on the prowl, with nothing better to do. As of right now, that's all we know, but if more details emerge we'll be sure to let everyone know!
Keep Up With PopWrapped On The Web!