The day is finally here, readers. I can feel the collective tears flooding the country as we prepare to finally say goodbye to Jon Stewart.
In honor of this extraordinary man, and all he has done for political commentary (and comedic relief) throughout his 16-year tenure, this week's Thirsty Thursday is dedicated to Jon and his legacy, and why this man makes so many of us swoon. There is so much to be said about a man with a brilliant mind and quick wit, really. The fact that he's a silver fox doesn't hurt, especially when he uses his powers for good. Prepare to swoon.
5. Jon Left Speechless By The Fearless & Inspirational Malala Yousafzai
Malala Yousafzai is a powerhouse all on her own. The Pakistani teenager became a household name after being shot in the face by the Taliban because of her fierce advocacy for educating Pakistani women; not to mention the fact that she's the youngest-ever Nobel Prize laureate. Her interview with Stewart blew all of us away, including the illustrious host himself. Her eloquence and passion when discussing the barbarism of the Taliban, and the absolute necessity of educating women, is one of Stewart's most empowering segments to date. Stewart has witnessed it all, yet I've never seen him so impressed or stunned by anyone as he was by Yousafzai. The Daily Show was a perfect, safe platform for her to showcase her bravery and brilliance.
Why it's swoon-worthy: Jon Stewart is a veteran of this business, he's seen it all; and, with 2 Peabody Awards and 18 Emmys under his belt, he can literally do whatever he wants on his show. He decided to use that power for good and stand back to let Yousafzai shine. He gave her a platform on which she could get her message across. His awe and respect for her was also one of the most adorable things these eyes have ever seen.
4. Jon Reacts To The Murder Of Eric Garner By NYPD, "We Can't Breathe"
We as a nation are really great at playing the blame game, ESPECIALLY when it comes to pointing the finger at somebody who is... let's just say, "not white." Conversely, however, nothing shows the ugly and mangled side of Americans quite like a white cop being persecuted for the death of a black person. When Eric Garner was accosted and murdered by five cops in New York City, Fox News and CNN wasted no time in listing all the reasons that Garner brought his own death upon himself; including, but not limited to: 1. "He was huge! The cop clearly feared for his life" (but there were five of them). 2. "This man was unhealthy and obese. If he were healthy, he would still be alive" (even though the coroner report clearly stated that the COD was compression of the throat and chest). 3. "Well if he would have just done what the cop said this wouldn't have been a problem" (-_-). 4. "He was resisting arrest!" (So have countless others, and they had the privilege to live and tell their tale). 5. "If you can SAY 'I can't breathe,' OBVIOUSLY you can." (Idefk at this point).
Sometimes, when I'm feeling particularly bold or pissed off, I post about my frustrations on Facebook, fully aware that I am opening myself up to the worst sort of trolls. Like when I posted about the incident with (former) Officer Ray Tensing and Sam DuBose, and my disgust with how the cop handled it, for example (he shot DuBose execution style in the head). Then I had a member of my family ask "Why I always side with the blacks" followed by a stern talking-to about being a true American, which she wrapped up by scolding me for not knowing what these cops go through on a daily basis as I sit in my luxury office and eat bonbons all day. (I don't have a luxury office, nor have I ever sampled a bonbon). I'll let Jon speak for me in this instance, as well: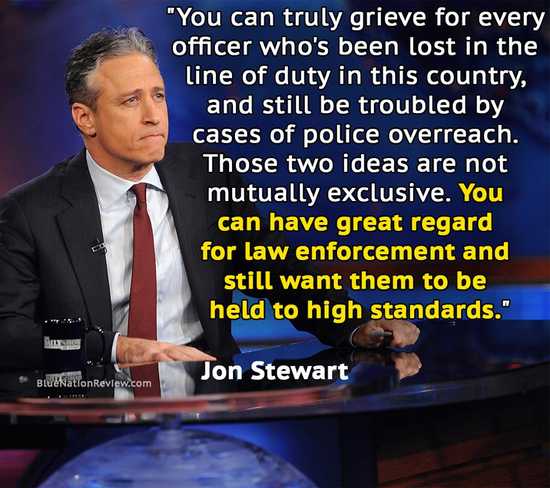 Why it's swoon-worthy: Despite everyone insisting that racism is dead or "on its last leg," it is still very much alive in our country. To ignore it is to do a disservice to all of those men, women and children that battle this epidemic daily. Jon refuses to let something as seriously as the murder of an innocent man, and the racially charged reasons behind it, go quietly into the night. He advocates for fairness and balance, and is everyone's greatest champion.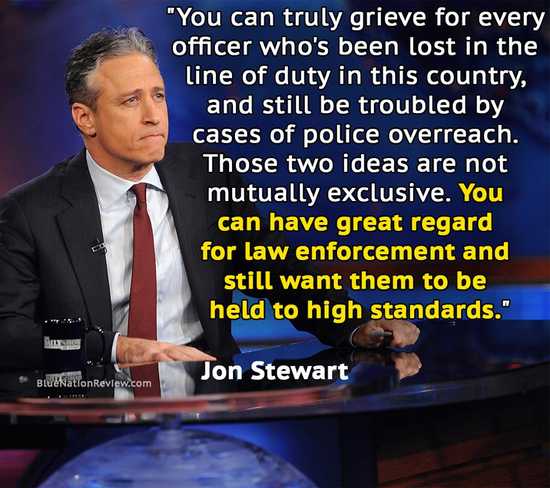 3. He Introduced The Country To Elizabeth Warren
Senator Warren is a ray of sunshine in a world overcome with darkness. Despite the cry and push from many, she is too smart to run for president; but I think she may be in a better place to influence real change where she is, anyway. Six years ago, she appeared on The Daily Show, and America was introduced to a fierce woman who would come to be an American Feminist and Middle Class Hero. I'll let the Senator speak for herself as to why she personally loves Jon:
The first time Jon Stewart invited me onto The Daily Show six years ago, I threw up backstage. I had gut-wrenching, stomach-turning stage fright. I was a no-name college professor there in 2009 to talk about oversight of the Wall Street bailout. It was important – and I didn't want to mess up and become the joke. The first couple of minutes seemed so terrible, I thought I would have to resign from my new position on the TARP Congressional Oversight Panel. But when we got to the commercial break, Jon could tell that I hadn't said what I'd come to say. He took my arm, told me to stay in my seat -- and then he let me deliver this message. That moment changed my life.
I'm grateful for every single time someone has come up to me and asked: "Hey, aren't you that lady I saw on Jon Stewart?" Because almost every time I've told someone, "Yup, that's me," they've followed it up with: "Keep fighting!" That's what Jon has done for 16 years: with passion and humor, he skewered the people who needed skewering, called out the big guys who rig the system, and prodded us all to fight back.

Thanks, Jon!
Why it's swoon-worthy: I adore Jon, and I adore Senator Warren. I love that he took the time to comfort and help her through something that was clearly terrifying for her. He CARES, and that's what has always made him different from his peers.
2. The War On Women: It Actually Does Exist
The Right hates women. Oh, I'm sorry, is that an inflammatory comment? Too bad. The truth hurts. This reason, and so many more, are why it absolutely befuddles me when I see women standing with people like Mitt Romney and Mike Huckabee. If it were up to them, we would be stripped of all our rights and forced back into the home where we would remain barefoot and pregnant for as long as we're fertile. Or, maybe we would be allowed to work but, instead of making .78 cents to every man's dollar, we would get, like, .15 maybe? Despite the fact that Fox News vehemently denies the existence of any such war on the "gentler" sex, they have no problem labeling everything else as war. IE: War on Christmas, war on Christians, war on sugary drinks, war on fall holidays, war on fossil fuels, war on the Constitution, war on ladies night, war on salt and war on chocolate milk, just to name a few. Obviously all of those things are far more important than women being treated like just incubators with a few desirable holes. Well, that is until the media starts waging "war on conservative women." As long as they're conservative, it matters, okay?
Why it's swoon-worthy: Every single man who fights for the rights of others is sexy. Straight men fighting for the rights of gay men? So hot. Men fighting for animals? Let's snuggle for a week. Men fighting for the rights of women? Take me baby, I'm yours. Jon has, er, had our backs.
1. His Overall Jon Stewart-ness
There's a reason people love Jon Stewart, and it's not just because of his witty repartee. It's because he's REAL. If he's wrong, he corrects himself on the next show and backs it up with MORE information. He's liberal, yes, no one will deny that; but he's got zero qualms with calling out his own side, as well. He's funny and brilliant and holds genuine compassion. He calls people out and does not let career politicians get off with vague answers. Back in 2004, Jon went on (the now defunct) CNN show, Crossfire. When he was asked why he doesn't ask "the hard questions" when interviewing politicians, he quickly pointed out that, well, he runs a COMEDY show. A comedy show. And yet we all tune into his show rather than "legitimate" news sources because we know that, despite the comedic fodder, everything he says has been researched and backed up. You can't ask for much more than that.
Why it's swoon-worthy: He's dream man material, and that ain't no lie. Sexy as the day is long, with a sharp mind and quick wit, who would respect you and love you to the best of his abilities. What more could any woman ever ask for?
Thank you, Jon. Thank you for the laughs, the tears and all of the enlightenment over the years. And, just so you know, all of the fans that you are ABANDONING expect great things from you. Like maybe a political run, okay?
Make it happen.