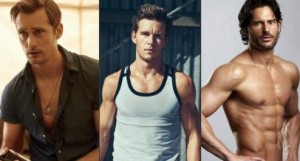 Dani Strehle
Senior Manager
True Blood
embarked on its seventh and final season this past Sunday, I've decided to dedicate this week's Thirsty Thursday post to the smokin' hot creatures of the night on the sexy, bloody HBO drama. Here we go!
Sam Merlotte, as played by Sam Trammell
Sam isn't what one may typically define as sexy. He's a bit scrawny and generally just "meh" at first glance. But through the years, Sam has proven his Thirsty Thursday worthiness. He's solid as a rock, brave, kind, compassionate, strong and not afraid to throw you down in the dirt in the throes of passion. Plus, he's a shape-shifter. I mean, that's the coolest supernatural creature there is!
Jason Stackhouse, as played by Ryan Kwanten
Jason's character didn't get off to a great start. He was spoiled, arrogant, slutty and basically just a walking train-wreck. He got addicted to V with his junkie girlfriend, stole a vampire as his own personal blood bank and saw his girlfriend die. Then he decided he was going to join the Fellowship of the Sun and exterminate vampires. But this was also his turning point. When he got caught up with those batshit crazy Newlins, he realized that they were no better than the "threat" they were trying to eliminate. It was really at this point that we saw Jason transition from a spoiled little boy used to getting whatever he wanted into a MAN. And I do mean MAN. Yum. Plus, he's British; so under that incredible Southern accent is a real English gentleman. Double yum.
Lafayette Reynolds, as played by Nelsan Ellis
Lafayette has been my favorite character from the start, and has remained as such through all 6 seasons. He is sassy, hilarious, loyal, smart, savvy and kind; but he's also got that je ne sais quoi that one really looks for in a character. He's got this wisdom about him that makes you want to hash out all your problems over a bottle of Hennessy and a blunt. Also: that body. Daayum. Lafayette is stacked, for real.
Alcide Herveaux, as played by Joe Manganiello
Joe Manganiello is basically my dream man. Tall? Check. Dark? Check. Beard? Check. Abs? Check. Arms? Check. Brain? Check. Kindness? Check. Passionate? Check. I mean REALLY! It's not fair for all of this to be packed into one absurdly deliciously package. This is a man that could meet every need, seriously. He could make you laugh, make you think and make you hot all in the span of a few seconds. He is everything.
Eric Northman, as played by Alexander Skarsgard
I mean, you knew it was coming, right? Eric is the reason I keep tuning in every week. He is playful yet dangerous. There were moments when I believe Sookie wasn't sure if was going to bite her or bang her. But isn't that kind of what makes him exciting; the danger? There is just something so intriguing about Eric as a character; and he drew us all right in, even when we thought he was the bad guy. THAT is the mark of a true actor, in my opinion. As Michael C Hall made a serial killer loveable, Skarsgard made it entirely plausible to fall (and fall hard) for an undead villain. The fact that this season's previews show NO ERIC WHATSOEVER gives me irrational rage and anxiety. What's the point of watching if there's no tall, scheming, blonde, bombshell vampire to drool over?! There you have it, folks! My top five hottest men of
True Blood.
Some of you may find the fact that Bill Compton (Stephen Moyer) didn't make the list alarming. But I assure you, it was intentional. He's always been just a bit too short and pasty for my tastes. Plus there was that whole turning into the vampire God Lilith and getting all superior and trying to kill everyone thing that really turned me off. Otherwise, do you agree with my list? Take the poll and let us know! [yop_poll id="34"]
Keep Up With PopWrapped On The Web!