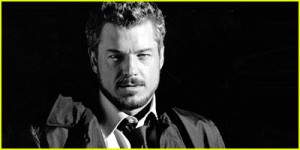 Dani Strehle
Senior Manager
Game of Thrones
more than a drunken night out. My taste in men changed all of a sudden...and that brings us to this week's "Thirsty Thursday." I find myself gradually becoming attracted to older men. I assume this is normal, but as I've never grown older before, I can't say for certain. There is something about older men that offers wisdom and stability; and just a hint of eroticism. You look at them and you KNOW they've had years to practice their craft. It's only logical to think that, with age, comes sexual prowess. Obviously that's not always the case, but for the purpose of this post, I'm standing by it! This week's Thirsty Thursday is dedicated to the older men of Hollywood that will always be in style (more on that later). Now, let me preface this piece by sharing that I am 29, and "older" is relative. I mean no offense if a man included is near your age. I simply mean older than ME. That being said, let's get started!
Eric Dane
Oh, hello, McSteamy. What needs to be said about Eric Dane, really? He's a tall, ripped, silver-haired piece of delicious man-meat that I'd love to sink my teeth into. His role as Doctor Mark Sloan (Dr. McSteamy) on
Grey's Anatomy
had women and men across the board wanting to play doctor. Clearly a face like that could heal all wounds.
Pierce Brosnan
Oh Mr. Bond, you can do no wrong (his terrible singing in
Mamma Mia
notwithstanding). Seriously though. Those eyes. That voice. That accent. He's sophisticated yet sensual, endearing yet strong. He's a man that would make you feel safe and excite you beyond belief simultaneously.
Gerard Butler
This guy. I tell you what. He exudes sex. All you need to do is watch him even just for a moment in
300
and you'll find yourself getting uncomfortably turned on. He is all man; but somehow still seems romantic? So like, maybe he'll throw you down and make passionate love to you and then read you poetry while you snuggle on his bear-skin rug. Seems legit.
George Clooney
"Clooney is like a Chanel suit; he'll always be in style." Ah the infinite wisdom of Carrie Bradshaw. She was spot on, wasn't she? There is just something about Clooney. Yes he's a local boy (born in Kentucky, schooled in Cincinnati) which makes him pretty much a God around these parts; and yes he's one of the biggest movie stars in the world-- but it's more than that. Somehow he just feels approachable. He hasn't lost that good ol' Kentucky charm, and when he returns to his roots to run for office, I will be absolutely floored if he doesn't win by a landslide. It will be so nice to have him back. Just look at that face!
Jon Stewart
The crush I have on this guy is seriously off the charts. I utterly adore him. He's funny, brilliant, compassionate, endearing and just seems to generally love life and what he does. Is he technically the "sexiest" guy on this list? Probably not. That just goes to show that humor always wins. I imagine if you got to spend any time with him at all you'd be in fits of laughter. Then we could have a lovely Manhattan evening including dinner, a walk through Central Park and some rousing political conversation. Sounds like a dream to me.
Honorable Mention: John Stamos
John Stamos only gets an honorable mention because his sturdy Greek genes have prevented him from going all grey quite yet (or maybe it's Just For Men, but who am I to judge?). But those silver streaks in that gorgeous head of hair are enough to make him semi-qualified for this list. John Stamos is truly a freak of nature. He literally gets better with age. He was all kinds of sexy on
Full House
as Uncle Jesse; and somehow, twenty years later, he's even better. Yum. That concludes my list of sexy silver foxes. Be sure to vote in the poll below and let us know who YOUR favorite is! [yop_poll id="33"]
Keep Up With PopWrapped On The Web!