The '90s. Those of us who consider ourselves "children of the '90s" take the title VERY seriously. We are fiercely protective of the fashion, the music, the culture, the television, the movies and everything else in between. We believe nothing will ever best that decade and that all endeavors since the year 2000 have been lacking in every way. 
As an ode to the decade of which I did my major "coming of age," we're going to play Marry/Fuck/Kill with some of my very favorite fellow '90s stars. 
(Please consider that, since all of these shows are from the '90s, so are the stills, which will explain the poor quality of the photos).
Bobby Budnick: Never has there been a more beautiful, flowing, ginger mullet than the one atop Budnick's head.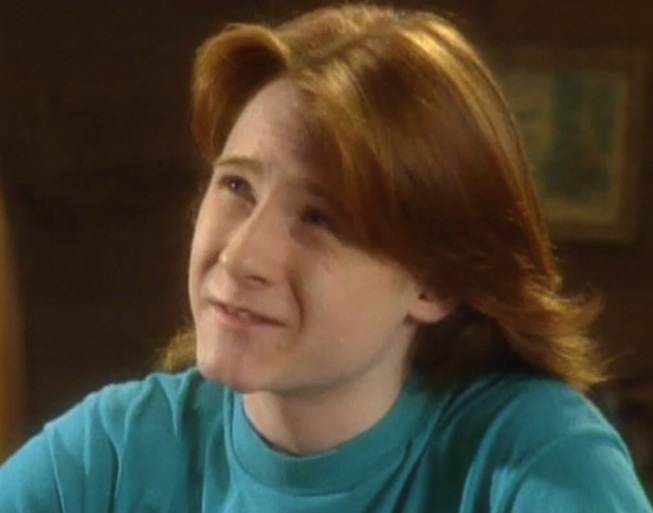 Tumblr
Sponge Harris is the type a guy your mom REALLY wanted you to like.
[socialpoll id="2296827"]
Michael Stein was the whole package: sweet, smart AND cute. Definitely husband material...
[socialpoll id="2296828"]
Are You Afraid of the Dark is responsible for launching, like, a thousand careers. Don't believe me? Just check out the hotties listed below!
Elisha Cuthbert has a stint on AYAotD and she's had a pretty dang successful career thus far. She's also incredibly talented and beyond beautiful. So, what's your vote?!
[socialpoll id="2296829"]
Vanessa Lengies was ALSO on Are You Afraid of the Dark?! That's right, Glee's very own Sugar Motta had a spot in the Midnight Society!
[socialpoll id="2296830"]
And last, but certainly not least, we have Once Upon a Time's very own Ariel, Joanna Garcia Swisher! This girl has been around forever and she has carved out an incredibly successful career for herself.
[socialpoll id="2296831"]
Christine Taylor as Melody made everyone want to travel to a dude ranch. Mrs. Ben Stiller has also found extreme success since her years as a Nick kid. I think she's wonderfully talented.
[socialpoll id="2296832"]
Lucy did her best to keep these unruly teenagers in line, and she looked good doing it. Definite cougar material right here!
[socialpoll id="2296833"]
As much as I loved Melody, Brad was always my favorite. Mostly because we both had "boys'" names and she was also a brunette. She was relatable, okay?
[socialpoll id="2296834"]
God I loved this show, and I REALLY wanted to be on it. Mostly because of Donnie Jeffcoat.
[socialpoll id="2296835"]
Omar Gooding always just seemed like such a nice, fun guy. I can see dates with him being a serious adventure.
[socialpoll id="2296836"]
Annette Chavez did her best to keep these boys in line, but it was a tough job. I tell you what, though, sister is ROCKING that '90s hair like nobody's business, scrunchy and all.
[socialpoll id="2296837"]
Finally, we get to one of my all-time favorite '90s shows, The Mighty Morphin Power Rangers. My favorite ranger was always the Blue Ranger, I'd marry him for sure!
[socialpoll id="2296838"]
Next we have the fan-favorite Pink Ranger. I'll admit, I never have been a big fan of pink, but Kimberly could certainly kick some ass.
[socialpoll id="2296839"]
Oh you know I was saving the White Ranger for last, right? While, yes, Blue was always my favorite, I can't say a meeting between the sheets with Mr. White Ranger wouldn't be... intoxicating.
[socialpoll id="2296840"]