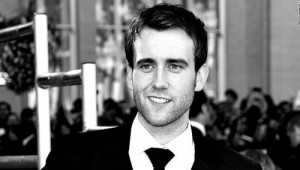 Dani Strehle
Senior Manager
5. Tom Felton
What comes to mind when you think of Draco Malfoy? For me it's greasy, thinning hair. For some reason, that last description, given to us by Rowling when the original cast is sending their little ones off on the Hogwarts Express, is the one that stayed with me. But Tom Felton? He's a certified hottie! He really isn't nearly as big of a weasel as his most popular character is, we promise!
4. James & Oliver Phelps
I mean, this one's a no-brainer: there are two of them! Two for the price of one. Are these fiery twins technically the best-looking guys in the world? No, probably not. But what they may lack in "conventional good-looks," they make up for in spades with charm and humor. Beauty inevitably fades. A good sense of humor is forever.
3. Rupert Grint
Man oh man. I never thought Grint would make it on a
Harry Potter
hot list. He was an awkward teen who had some serious inferiority complexes. But he's turned into quite a glorious adult filled with quirks and a fearlessness that is enviable. Ickle Ronnie is just all grown up now. And I like it.
2. Matthew Lewis
HOLY NEVILLE LONGBOTTOM!!!!! I mean, seriously, when did this happen? It was evident in
The Deathly Hollows: Part II
that the Neville Longbottom we all grew with up had grown into a formidable man. He did kind of save the entire Wizarding world, after all. But in the past year or so Matthew has really made a splash; actually, more like a sizzle. Because he's hot; get it? Anyway, yeah. Matthew Lewis. Yum.
1. Emma Watson
You thought it was going to be Daniel Radcliffe, didn't you? No, I simply could not put him on my list of hotties. It felt...wrong. Emma, on the other hand; well I have no problem admitting my utter adoration for this petite beauty. The great part about Emma is, though, that her physical beauty is only a tiny part of why she's so lovable. She's brilliant, classy, generous, silly, talented, and pretty much just all-around flawless. She's recently been announced as the United Nations' Entity for Gender Equality and The Empowerment of Women; which is a genius move on their part as Emma is universally loved. She certainly deserves the top spot on this week's list! Well readers, what do you think? Do you agree with my list? Did I leave anyone out or give someone credit where it wasn't due? Be sure to vote i our poll below and let us know! [yop_poll id="36"]
Keep Up With PopWrapped On The Web!