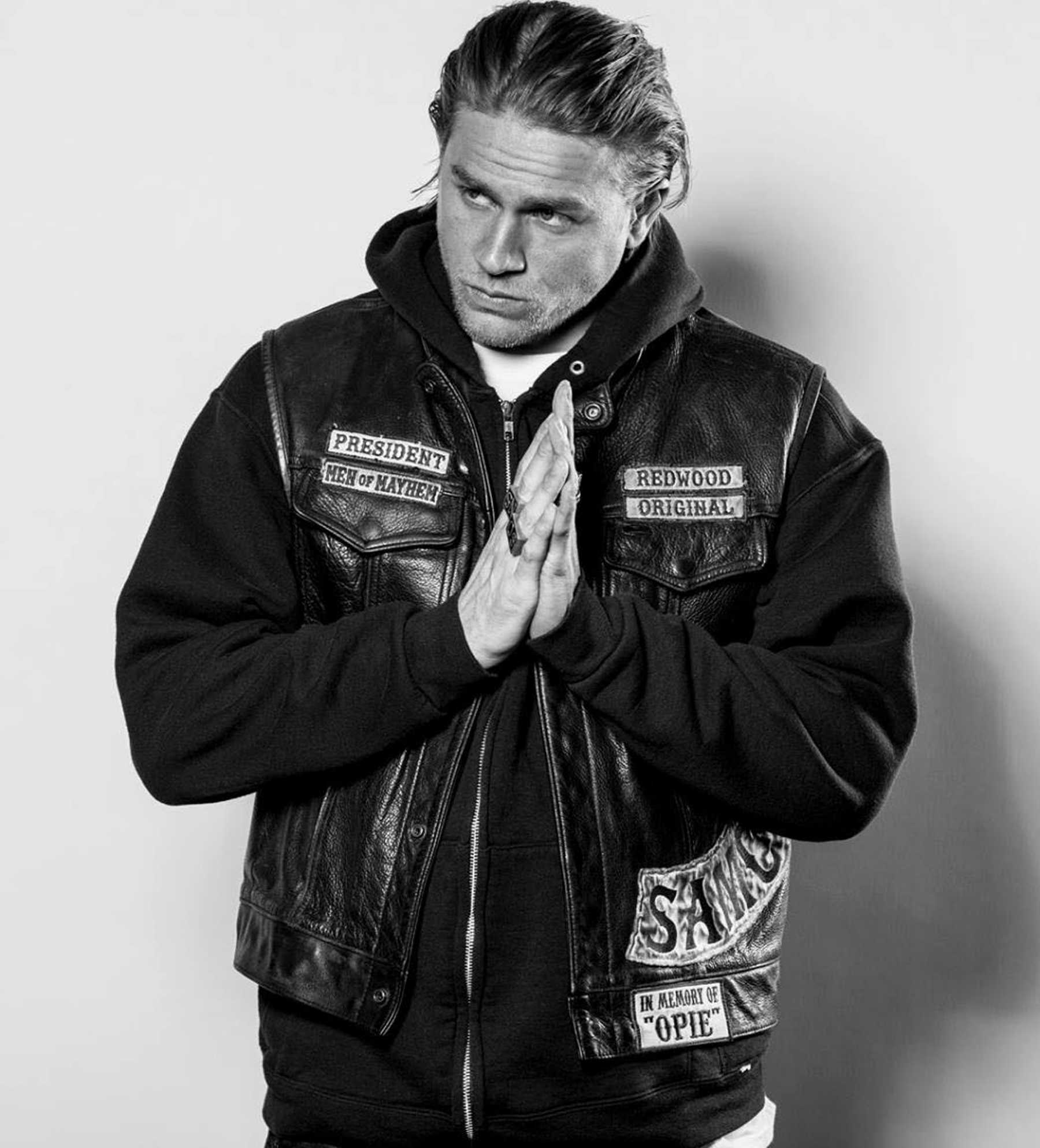 As per usual, I am late to the party. The SAMCRO party, that is. When
Sons of Anarchy
rode onto the screen with the guttural purrs and roars of their Harley's engines, I didn't give it a second thought. "Why would a show about a motorcycle club hold any interest for me?", I'd asked when a friend inquired if I watched it or not. Six entire seasons of this show passed by before I came to my goddamn senses and started binging it. And now, I've reached the final season. In fact, I've only got about four episodes left in the entire series. (I won't tell you how long it took for my husband and me to watch seven seasons of an hour-long show, just know that we haven't been very good adults lately). That's why this week's Thirsty Thursday is dedicated to the ridiculously hot men of
Sons of Anarchy
. You may not like my choices, and they may surprise you; but I stand by them, damnit! The great thing about the characters on this show is that, despite their predilection for nefarious hijinks, you like them anyway. And, despite the fact that some of them may not be traditionally attractive, their presence and raw sexuality negates conventionality. Plus, it's basically completely cast with buff men that can grow full beards like champs. Or, in other words, my sexiest dreams come to life. Let's get started... **Warning: minor spoilers ahead.**
5. Niko Nicotera; George "Ratboy" Sedgtraw
Rat has only really started to shine in the backend of the series. After he was upgraded to a full-fledged son of anarchy from a meager prospect, his storylines started to become a bit more prominent. Honestly, who even cares about what he says when he's got those deep, dark eyes that pierce you straight to your soul.
4. Billy Brown; August Marks
Just. Wow. I actually first spotted Billy Brown on the smash-hit
How to Get Away With Murder.
He plays the secret lover of Viola Davis' character. I noticed him immediately, because, well, just look at him! He is such a dangerous and sexy presence on
Sons
that the fact that he is a villain is of very little consequence. He's just THAT good. Don't you just want to suck on those lips?
3. Tommy Flanagan; Filip "Chibs" Felford
Okay this is the one I was talking about above. You know, when I said that some of my choices "may surprise you?" But, also as I said, I stand by it. Chibs has probably been my favorite character throughout the entire show. He has been an unwavering constant in a sea of roller coaster plot lines. Despite being a part of the dangerous MC, it's clear that Chibs is actually a very good man. He is loyal and brave and strong and just someone you can count on. And those scars on his face do absolutely nothing to detract from his appeal. In fact, I think they add an air of danger and intrigue that make him even sexier. Oh, he's also Irish, so major bonus points for the accent.
2. Ryan Hurst; Harry "Opie" Winston
The first moment I saw Opie, I was struck by how familiar he seemed. I knew I had seen him before, but had trouble recognizing him behind that gloriously full beard of his. Thanks to IMDb, I was able to ascertain that Opie was also Gary Burtier, the tragic hero from the best sports movie of all-time,
Remember the Titans.
I loved him from that moment on. Opie was an amazingly complex character. He was a man who wanted more than anything to be a loyal husband and father, and just generally good, but had trouble reconciling that with all of the horrendous things he had seen and experienced. In the end, his brokenness could not be remedied and he sacrificed himself to save the club. Opie, ye shall not be forgotten. Okay, one more picture for good measure.
1. Charlie Hunnam; Jaxon "Jax" Teller
I mean, you knew where this was going, right? My first experience with Charlie was actually when he was announced as the lead role in
Fifty Shades of Grey.
I just remember thinking, "this scruffy dude is so NOT Christian Grey." But now that I've watched
Sons
(and
Pacific Rim
), I recognize him for the Golden God he is. He is tall and sinewy and has the single most beautiful back you will ever see, made even more so by the sexy SAMCRO tattoo sprawling its entire length. And while he may not always be a good man (on the show) in the traditional sense, you know that, beneath the frost in his soul, he's got a heart of gold. I will now and forever watch anything that this man is a part of. And that's my list! Be sure and let us know who your favorite Son of Anarchy is in the comments below!
Keep Up With PopWrapped On The Web!