Happy Thursday, everyone! In honor of Incubus releasing their first new music in four years (!!!!!!!!!!), today's Thirsty Thursday is going to be a little different. I have loved Incubus for years, and have seen them live six times. Their leader singer/composer/lyricist/general wearer of many hats, Brandon Boyd, is a poet, a musical genius and all around beautiful man. Proof: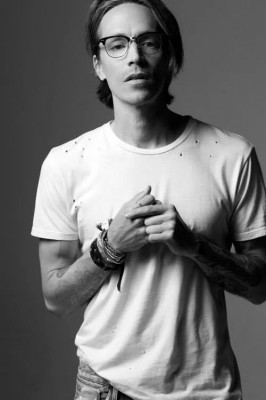 Courtesy of Tumblr
It's been four years since we've had new music from Incubus, and this fan has been aching for it. Their new single, "Absolution Calling," does not disappoint. One of the best things about this band, is that every time a new single is released, you know it won't sound like anything they've done in the past. They reinvent themselves constantly. Today, I am going to share my top Incubus songs with you. There will be sexy songs and romantic songs and even some hard-rocking songs, but they'll all be good ones. At least, in my humble opinion! Bear with me, it's going to be difficult to narrow this list down!
"Pardon Me;" Make Yourself
I crank up "Pardon Me" when I'm having a particularly rough "people" day. You know, when you feel as though you're being pounded by a constant deluge of stupid/inconsiderate/mean people? Turn this song up and sing it loud and bam! Instant catharsis.
"Aqueous Transmission;" Morning View
Morning View
is my favorite Incubus album. It's dreamy and ethereal and it always soothes me, no matter my mood. "Aqueous Transmission" is, in my opinion, one of the best songs in their catalog. It's complex and calming; and when they perform it live, it is a truly beautiful thing to behold.
"Drive;" Make Yourself
This was the first Incubus song that I remember hearing. I was a freshman in high school when it came out and I was instantly smitten. Not only is it a great song, but it makes me nostalgic and reminds me of simpler times. Warm fuzzies all around. Plus, it's a super-cool video.
"Are You In?"; Morning View
This song. This song is just amazing. From the incredible drum solo provided by the stupidly talented Jose Pasillas, to the catchy beat that stays in your head, to Brandon's peak vocals; this single really just can do no wrong. Also a really fun song to see them perform live.
"Sick Sad Little World;" A Crow Left of the Murder
This is another hard-pumping song that just gets me going, as well as another example of how musically talented all the guys in the band are. Drummers, take note: this is how it's done.
"Echo;" Morning View
Another dreamy single from
Morning View.
Brandon's ability to write a truly meaningful love song is unmatched. Most rock bands teeter on that dangerous precipice of cheese when they try to write ballads, but Incubus has mastered it. Oh to be the subject of his whimsy!
"Certain Shade of Green;" S.C.I.E.N.C.E
God I love this song. Those first few chords always get my blood pumping. Plus the lyrics are so great, "I think I grew a grape watching you procrastinate." Brilliant. There's also a really great "lounge" version that I love almost as much as the original.
"Warning;" Morning View
I'm just going to let you listen and let the music speak for me on this one...
"Black Heart Inertia;" From the compilation album,  Monuments and Melodies
I do really love this song, but I find myself being more enamored with the video. I just really love playful Brandon Boyd and this video lets that shine through. Simply adorable.
"In My Room;" A Crow Left of the Murder
Remember when I mentioned sexy songs? Well here it is. If this song doesn't put you in the mood, nothing will. It also just-so-happens to be some of Brandon's best vocal work to date. Why, yes, Brandon; I WOULD like to go back to your room. Is tonight good for you?
"Wish You Were Here;" Morning View
Like I said, nobody does a love song better than Brandon Boyd and Incubus. I mean, just check out these lyrics: "I dig my toes into the sand, The ocean looks like a thousand diamonds strewn across a blue blanket. I lean against the wind, pretend that I am weightless, And in this moment, I am happy. Happy. Iiiiiiiiii, wish you were here." You're feeling it, aren't you? And that's just the first verse!
"If Not Now, When?"; If Not Now, When?
The thing I love most about this song is how it builds. It starts out slow and dreamy, but it gradually picks up, and then goes back down again. It's a beautiful example of the many languages and emotions that are spoken through music. Best for last: I've saved the final two videos for last because they are my favorite songs in the Incubus catalog; for numerous reasons. As far as "Stellar" (
Make Yourself)
goes, it holds a special place for me as it always makes me think of my husband. I've always kind of considered it "our song" so the feelings tied with it are always pleasant. "How do you do it, make me feel like you do? How do you do it? It's better than I ever knew." Simply magical. As for "Dig" (
Light Grenades)
? I just really dig it, okay? --Please excuse my puns-- And that's my list! Do you agree with my choices? Think I included one that shouldn't have been, or left one out? Be sure to leave a comment below and let me know where I went wrong and/or right!
Keep Up With PopWrapped On The Web!