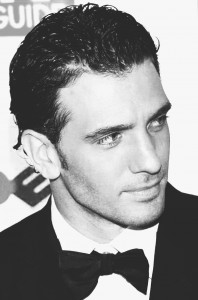 Dani Strehle
Senior Manager
NSYNC
. This piece really resonated with me on a personal level as I, like so many others my age, was irrationally obsessed with the five cute crooners. Their music, their moves, their philanthropy; every thing they did made me weak in the knees. And while I adored the group as a whole, it was the blue-eyed JC Chasez and his velvety voice that really caught my attention. [gallery type="slideshow" ids="49963,49960,49972"] While most girls were busy swooning over the curly-haired Justin, I gravitated to JC and was forever offended that he was not given more credit for the spectacular success of the group. He was a brilliant lyricist, composer and choreographer; and yet Justin got most of the attention. I wasn't fooled by those flashy blonde spirals, though! Apparently there was a "JC Appreciation Day" on Twitter that I missed last week. But, it's not unusual for me to be late to the party, so I have decided to have my own little JC geek-out. This week's Thirsty Thursday post is dedicated to the many ways that JC contributed to my pre and post pubescent sexual awakening. Be warned: Oversharing is imminent.
1: For The Girl Who Has Everything.
This song was on *NSYNC's self-titled, debut album. On the album, it was sung exclusively by JC, but Justin (the "heartthrob") was included in later recordings and in the video. Personally, I thought Justin's somewhat screechy voice actually brought the quality of the song waaaaay down, but nobody asked me! When I first heard the song, I knew JC was singing to me. I could probably have been considered a bit privileged and he wanted to come in swipe all of the superfluous bullshit away and show me love. I totally would have let him. Plus he was goofy, gifting the world with this little parody that only made me love him more.
2. This I Promise You.
This song. THIS SONG! It stills makes me believe in fairy tales. And yes, Justin's part was nice and sweet and well-performed and blah blah blah. But JC's part took my breath away then, and still makes me believe in perfect love to this day. "I've loved you forever, in lifetimes before. And I promise you neverrrrr, will you hurt anymore. I give you my word, I give you my heart. This is the battle we've won. And with this vow, forever has now begun." I know, you're struggling to keep your cool right now, aren't you? It was almost too much for teenage me to handle. Here's a video of JC singing "This I Promise You" with
Glee's
very own Mr. Schuester, Matthew Morrison!
3. Awakening.
Of course by the time *NSYNC's debut album hit shelves in 1998 I was interested in boys. I was a thirteen-year-old girl, after all. But up until that point it all been based on harmless, innocent flirtation. My "boyfriend" was only that in name. We never went anywhere; we rarely laid eyes on one another; and I certainly wasn't thinking about things like sex quite yet. But that all changed when JC was introduced into my life. I found myself daydreaming about things I hadn't even really considered yet. Sleepovers with my girlfriends basically turned into pre-teen
Taxi Cab Confessions
where we hashed out all of these alien feelings we were having. What IS that feeling down in the pit of my stomach that only happens when JC does a hip thrust? Kind of like this: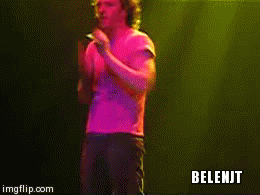 And a little bit of this: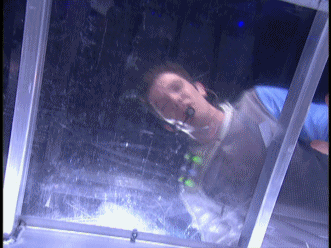 Definitely this: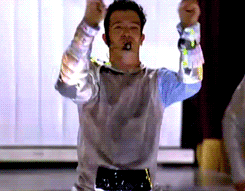 Honestly, it was a little disconcerting. But I recovered quickly and started to appreciate these feelings as just another indicator that I was rapidly approaching womanhood. JC just triggered it.
4. Bye Bye Bye
Go to 2:57-3:13 in this video. That's all I'm going to say about that.
5. Schizophrenic
Ah, the solo years. JC's solo career never took off like Justin's did. His solo album
Schizophrenic
did, admittedly, fall a bit short. The album was aptly named, as it felt as though he just couldn't decide which direction he wanted to go. In this
Billboard
article, the author ponders why JC's career never found the success that JC's did, and his reasons are sound. [gallery type="slideshow" ids="49959,49965,49966"] That being said, JC did give us some really great tracks that proved he had grown up and was trying to find his place. He was sexy as hell and not afraid to show it. I was happy with the change, and the album. But even I have to admit that some it felt like he was trying too hard to shake that boy band image. Don't worry, JC; I ain't mad at ya. At least you put yourself out there! Glad you moved away from that hair, though... Basically, it was all JC, all the time in my adolescence. I purchased every magazine that had even a small picture of him. I had videos, books, lunchboxes, t-shirts, and not a square foot of wall that didn't have his face on it. Is this an embarrassing post to write, you may ask? Um, no. In fact, I enjoyed it immensely. And for all of you *NSYNC/boy band haters out there, to you I say: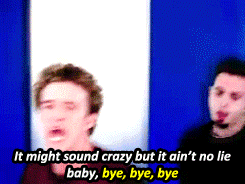 Keep Up With PopWrapped On The Web!