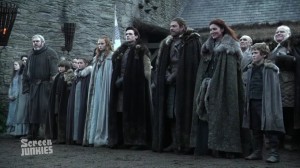 Courtesy of Screen Junkies
If you haven't seen any part of Game Of Thrones and want to get caught up with the rest of the world this video is the perfect opportunity for you. Summarizing seasons 1 through 3,
Screen Junkies strike again
with this "Honest Trailer" that will be the best 5 minutes you've spent procrastinating all day. For fans who have kept up with the show, this is beyond perfection. I won't lie, I was laughing so hard that I cried a little. Be warned though, there are undoubtedly many, many spoilers (they give you fair warning about them at the start of the video), as well as being a NSFW video, but I cannot let you do anything else today without you having watched this first:
http://youtu.be/SVaD8rouJn0
Keep Up With PopWrapped On The Web!