Clare Sidoti
Managing Editor
Have we got confirmation of the first character from the established
Star Wars
world returning for
Star Wars Episode VII
? It certainly appears that way. Yesterday, director JJ Abrams' production company Bad Robot, tweeted the following image to their twitter account, saying, "Hi from the workshop! #StarWarsVII". https://twitter.com/bad_robot/status/401077191087095808 Everyone's favourite astromech droid, R2-D2 is one of only three characters who have appeared in all six of the current films (the others being his counterpart C-3PO, and Anakin Skywalker/Darth Vader). R2 was played by Kenny Baker and "voiced" by Ben Burtt. Whether either of them will be involved in this current incarnation of R2 has not been disclosed. The loveable R2, though he only speaks in beeps and whistles, has endeared himself to
Star Wars
fans since his first appearance in 1977's
Star Wars: A New Hope
. The comedian to C-3PO's straight man, he can fix anything and, without him, I doubt that Luke Skywalker (Mark Hamill) would have been able to destroy the first Death Star. Not to mention that it was his "accidental" reveal of Princess Leia's (Carrie Fisher) message to Obi Wan Kenobi (Alec Guinness) that started Luke on his adventures. Check out
Glee
's Chris Colfer's tribute to R2-D2 for this year's Halloween: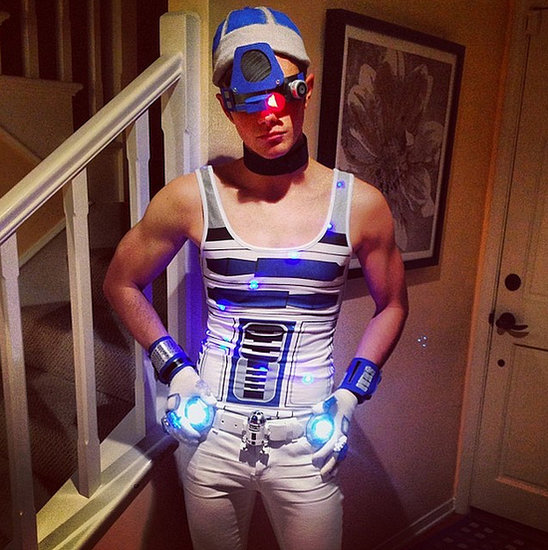 Photo courtesy of Chris Colfer/Instagram
Hamill, Fisher and Harrison Ford (Han Solo) are all expected to reprise their roles, though no official confirmation has been announced. Disney is currently conducting open auditions for other roles in the new film.
Star Wars Episode VII
is to be released on December 18, 2015.
http://www.Twitter.com/PopWrapped
https://pop-wrapped.tumblr.com
http://www.SoundCloud.com/PopWrapped
http://www.Facebook.com/PopWrapped
http://www.Instagram.com/PopWrapped
http://www.Pinterest.com/PopWrapped
http://www.YouTube.com/PopWrapped
https://pop-wrapped.wordpress.com
http://www.PopWrapped.com