Sean Strehle
Sports Correspondent
If you couldn't take your eyes off the Academy Awards on Sunday, you didn't miss much from The Walking Dead. We had another week of isolation from the group, this time following the mundane activities of Daryl and Beth.
The episode starts off with the pair seeking shelter from a group of walkers, using the trunk of an old clunker on the main drag. They survive the night, and take off to set camp, but not before picking up a few supplies from the car. Shortly after they set the camp, Daryl rustled up a nice juicy mud snake. Charred mud snake is a delicacy in Georgia right? Beth had enough mud snake, and told Daryl she needed some booze.
They took off the following morning in search of Beth's first drink, but not before getting the morning routine in: an argument that resulted in Beth storming off, a small skirmish between a walker and Beth, then a reconciliation between the two, before they got down to the business at hand. They stumbled out of the woods onto a golf course, and ruined one of golf's best kept secrets… That golf and booze go hand in hand.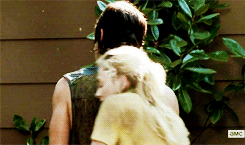 Courtesy of Thiscruelty
Beth had her eyes on the prize, and quickly came across a bottle of wine in the back of the kitchen. Shortly after, she had to use it as a weapon. How unfortunate for her, and the walker. Beth met back up with Daryl, and they took off and finally spotted the bar. Beth made a beeline for it, and came away only with a half gallon of peach schnapps. Daryl brought up a good point, and really, the lesson of this episode: peach schnapps is a really terrible first drink.
So Daryl smashed the bottle as well as Beth's hopes of her first drink. But Daryl put his tracking skills to good use and found an abandoned shack, and a crate full of Georgia moonshine. Now that's a first drink! Against the better judgment of surviving zombie apocalypse, they got shitfaced on about 3 shots apiece of the white lightning. Beth was a happy drunk, and Daryl raged out. He's really not a fan of drinking games apparently.
The mood calmed down, and the two acted like old buddies, sitting on the porch, hitting the sauce, sharing stories. Beth worked the mood perfectly, and finally got Daryl to cry. He opened up quite a bit, really lamenting how everything went down with the Governor. They both embraced, and really had some feelings, and emotions, and tears and stuff.
Courtesy of Thiscruelty
There was a lot of that this week in "Alone" and we've seen it all season. For all the promises of a crisper season of TWD, this season has dragged at the same glacial pace as last season. We saw a whole lot of Daryl and Beth two weeks ago, and this hour of television really did not advance their story a bit. Like I said, feeling and emotions, sure, but they seem to be stuck in a purgatory of aimless wandering. Meanwhile, in some parallel universe, Rick, Michonne, Glenn, Maggie, and all the rest are converging on the refugee camp. We think. Maybe. We might find out next week.
We'll see you then, Deadheads!
Keep Up With PopWrapped On The Web!
http
://
www
.
PopWrapped
.
com
http
://
www
.
Twitter
.
com
/
PopWrapped http
://
www
.
SoundCloud
.
com
/
PopWrapped
http
://
www
.
Popwrapped
.
Tumblr
.
com
http
://
www
.
Facebook
.
com
/
PopWrapped
http
://
www
.
Instagram
.
com
/
PopWrapped
http
://
www
.
Pinterest
.
com
/
PopWrapped
http
://
www
.
YouTube
.
com
/
PopWrapped