Filming for Thor: Ragnarok is underway, and Chris Hemsworth (the iconic thunder god Thor) and Tom Hiddleston (his equally beloved trickster brother Loki) were caught in the act in Australia.
The two Marvel stars are filming scenes that are apparently set to appear as if they took place in New York. A
 couple of pictures were obtained of the two Asgardians as you can see via BBC below: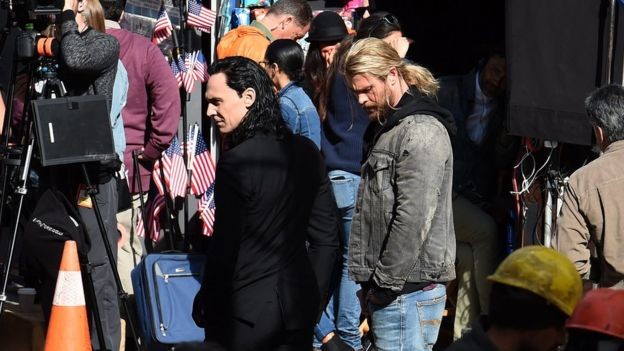 BBC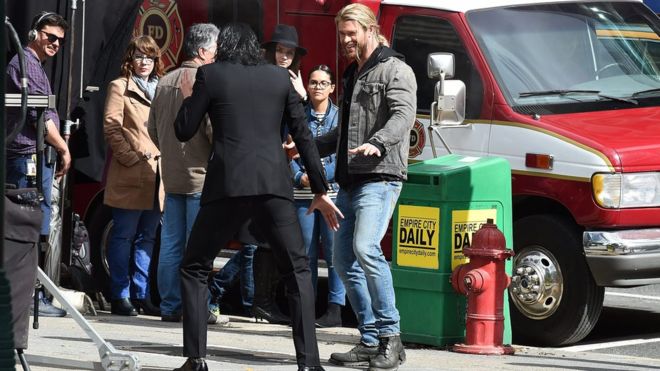 BBC
Some more detailed photos emerged from TheMandyDiaries who posted to Instagram a more rugged "R.I.P." tattoo that Thor was sporting.
As you can see, it looks like the Asgardian has gotten some new ink in the honor of his lying brother's passing. Loki appeared to die in Thor: The Dark World, but was later shown to be simply taking advantage of the Asgardians as well as possibly killing his own father.
While it is sweet to see Thor finally sporting some new ink and expressing sorrow for his brother's alleged passing, the tattoo appears to be more scrappy than just the blurriness of the camera.
While BBC has supplied us with some new pictures of the upcoming Marvel film, the DW Channel on youtube has actually given us tons of behind the scenes footage that you can see first hand of the two Asgardian gods.
Thor: Ragnarok is expected to grant the return of the many missing Avengers that didn't get any screen time in Marvel's last installment, Captain America: Civil War.
Look for Mark Ruffalo's Hulk to be featured in his first Marvel movie that isn't Avengers related.
With the reunion of the missing characters from the last installment,Thor: Ragnarok is going to bring in new stars like Karl Urban,  Cate Blanchett, Tessa Thompson, Jeff Goldblum, and more!
While many of these new stars on the film will be playing iconic Marvel villains, Tessa Thompson will be taking on the role of Valkarye, who is an Asgardian warrior chosen by Odin himself.
Look for Thor: Ragnarok to be the biggest Marvel movie yet, as it brings in a new connection to the Marvel Cinematic Universe!
See the film in theaters November 3rd, 2017