Kate McHale
Senior Staff Writer
Glee's
Season 5 just ended, Gleeks are chomping at the bit to get any and all information regarding the
6th and final season of the TV show
. Last night, Jane Lynch both set the
Glee
nation ablaze while she was giving an interview at FOX's
Girls Night Out
.
Jane had this to say about the final season, "We're all going to be coming back together in Ohio at McKinley." She also proceeded to say, "Doing something very different than [she'd] ever done on the show before," (Lea Michele) which not surprisingly left Gleeks scratching their heads. For most this is probably a shocking statement, especially with the season finale ending with Rachel riding off into the Los Angeles sunset. What more is there for her to do? Questions have been constantly circling around what is going to happen next season. More importantly: who is coming back for Season 6? Some sources have speculated that Rachel is going to become the new Mr. Shue. Rachel would return to once again set the glee club, her glee club back on its high pedestal. The plot twist is the new director of the New Direction's rival would be none other than her mentor, Mr. Shue. He would be assisted by Blaine, or a different beloved McKinley High Alum. Out of the new crew, only Alex Newell (Unique Adams) is rumored to return for a few episodes.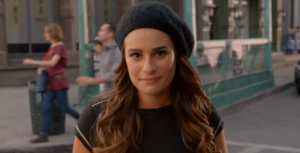 With so much still to be determined, it is incredibly hard to tell who all is coming back, and in what capacity. While the final season is going to end in Ohio, there is a high probability that it will not begin there. Mr. Ryan Murphy let slip that there will be a time jump for Season 6, but we all know what that means in Murphy and Co. terms: absolutely nothing! We kid...but only slightly. As of now, there have been no scripts written and the premiere date has also yet to be confirmed. To be honest, much of the final season is still so much in the air, to the extent that the set amount of episodes has not been released. Though, most speculate it will be 10-12 episodes. We look forward to giving our Gleeks the latest and greatest info for the final season.
Keep Up With PopWrapped On The Web!