Ben Patton
Senior Manager
@CincyBen
Olympic diving sensation, Tom Daley, was en route back to the UK when his plane was forced to make an emergency landing in Russia. Tom was traveling with his boyfriend, Oscar winning scriptwriter Dustin Lance Black, on their way back from the World Championships in Shanghai, China. Tom posted a photo mid-flight of their plane dumping fuel over Mongolia saying, "Just had to make an emergency landing in Irkutsk, Russia on the way back from Shanghai. Here's the pic of the fuel dump before landing."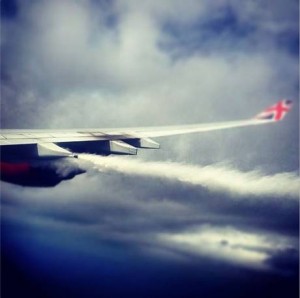 Courtesy of Tom Daley
Dustin posted a video of the event to his
Facebook page
which shows the fuel being drained from the plane. This emergency landing comes fresh on the heels of the recent tragedy over Ukraine when insurgents gunned down Malaysian Airlines flight Mh17 killing everyone on board. Tom expressed his concerns of landing in Russia following that event on his Twitter: https://twitter.com/TomDaley1994/status/491167826829664256 According to
The Independent,
"The Virgin Atlantic Airbus A340 from Shanghai to London suffered a "technical difficulty" and made a mandatory landing in Irkutsk, Siberia. The plane was carrying 301 people in total; 286 passengers including three infants, as well as three flight deck crew and 12 cabin crew." Lucky for Tom he had his boyfriend with him for support, and Black seems to be unimpressed with the unexplained events that currently have them "Locked in a broken plane." https://twitter.com/DLanceBlack/status/491161291583926272 https://twitter.com/DLanceBlack/status/491168887653015552 Tom and Dustin seem to be safe, though the events leading up to their emergency landing are still unknown. Stay tuned to Popwrapped as this story unfolds.
Keep Up With PopWrapped On The Web!