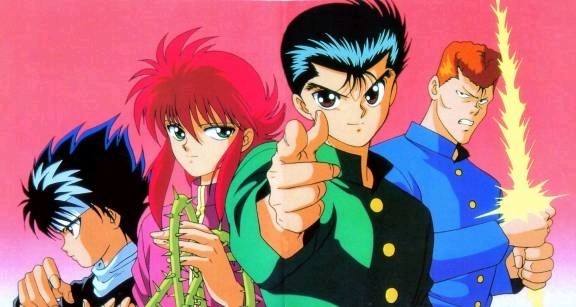 Courtesy of fanpop.com
Toonami succeeded in making anime fans pleasantly happy by adding the cult classic Yu Yu Hakusho: Ghost Files to its brand-new Pre-Flight streaming schedule on Adult Swim's website along with the mobile app. Toonami's Pre-Flight marathons consist of animes from the past and present, that have aired on Toonami, starting with Yu Yu Hakusho at 5 p.m. ET.
Yu Yu Hakusho originally aired on Adult Swim's Toonami Block from 2002 to 2003 with a total of 112 episodes and is, in my opinion, one of the stand-out's from Toonami's anime block along with hits such as Trigun, Cowboy Bebop, and Neon Genesis Evangelion. Yu Yu Hakusho, based on the manga series of the same name by Yoshihiro Togashi, tells the story of 14 year old Yusuke Urameshi who "suddenly finds himself dead, having died pushing a child out of the way of oncoming traffic. Since he has such a bad personality, even the Spirit World was caught by surprise that he would sacrifice himself. Yusuke soon finds out he wasn't supposed to die and has a chance for resurrection and bringing his body back to life. After being resurrected, Yusuke becomes a Spirit Detective, along with his comrades, and one adventure after another happens, whether it be an investigation or a fighting tournament."
Hakusho is a true anime classic that is filled with captivating characters, jam-packed action sequences' along with stellar humor and a constantly engaging storyline; it's an anime that will never bore you, with each season shifting on to a different arc with small sub-arc episodes in between. I highly, highly recommend the series and am immensely pleased to see Toonami add it to their Pre-Flight schedule. Yu Yu Hakusho was also licensed by Funimation and is available for purchase on Blu-ray and DVD!
Will you be watching Yu Yu Hakusho? Let us know your thoughts on the series in the comments down below and also provide a list of animes you'd like to see return onto to the Toonami Block or be added to the Pre-Flight streaming.