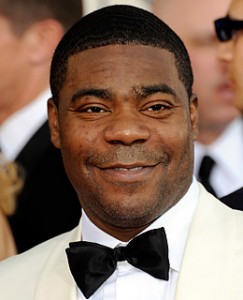 Courtesy Of Laugh Spin
Shane Avery
Senior Staff Writer
@ShaneAvery
He's alive, so that's all that matters.
Following the horrific crash that claimed the life of comedian James McNair, who opened for Tracy during the show they had just delivered, Tracy Morgan is expected to remain in hospital for an extended period of time.
It was revealed today that while his condition has improved, and he is more responsive, the crash did a number on him. This resulted in a broken femur, broken nose and several broken ribs.
Also, Tracy is said to have broken his leg, and underwent surgery today.
Tracy's rep adds:
"His family is tremendously overwhelmed and appreciative of the outpouring of love and support from his fans." He is still listed in critical condition however. 
PopWrapped sends its deepest condolences to the family and friends of James McNair, as well as best wishes to Tracy during his recovery.