This is what happened when 40 ft. inflatable minion, Kevin, blew off it's moorings from a fairground in Dublin. According to reports, "the giant minion caused traffic congestion for over 15 minutes," when the winds kicked up around 3 pm on Monday and poor Kevin flopped onto Old Swords Road in Santry. 
The story made its way around the globe by Tuesday morning, even making the popular morning program The Today Show.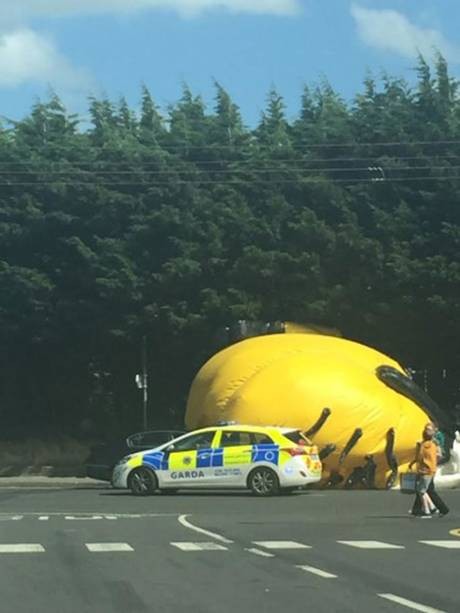 Courtesy of independent.co.uk/Erin Van Londen
Local resident Erin Van Londen captured photos while stuck traffic that have now taken over the internet.  "I'm not sure how it got loose, but I just saw it coming loose and flying across the road as we were driving," motorist Erin Van Londen told Dublin's The Journal.ie. "It's been very windy in the area." She also noted that she called the garda, and it was "quite an odd thing to report." 
I don't think anyone could stay mad at a minion, and this was no different. Kevin was promptly deflated and removed in a wheelbarrow by local business owners, allowing traffic on its way.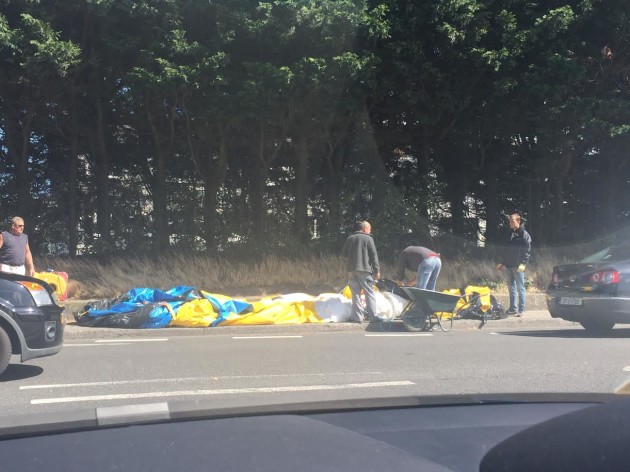 Courtesy of the journal.ie
Since Despicable Me was released in 2010, the Minions have become internationally adored by adults and children alike. The first film grossed over $540,000,000 worldwide. As of July 2015, the newest movie, Minions, starring Sandra Bullock has grossed over 155 million and the third film is set to be released in 2017.