Travis Atreo is a singer, musician and producer living in Los Angeles, CA.  From 2006 - 2013 Travis  was lead singer of the band New Heights, who hailed from Seattle, WA. After relocating to southern California, Travis Atreo decided to start his solo career, as well as his own YouTube Channel, to help share his own weekly cover series.
His influence for music ranges anywhere from Taylor Swift to Adele to Jay-Z, and everything in between. His covers still always represent his signature heartfelt sound.
Travis Atreo is making his mark in Hollywood taking the music industry by storm, and he's doing it all one cover at a time. This
sensation shares with us how one of his good friends
Colton Haynes pushed him to share his videos online, and how
gave him a direct tweet saying how much she loved his cover of her song "Style", which now has over 2 million views. Learn more about Travis in our exclusive PopWrapped interview below: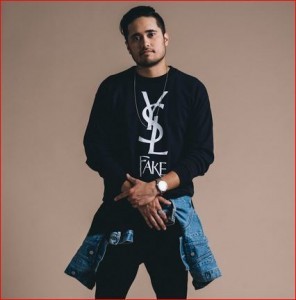 Courtesy of Travis Atreo Facebook
PopWrapped: When did you decide to make the big move from Seattle to Los Angeles?
Travis Atreo: I made the move from Seattle to LA in the summer of 2013. After growing up in Seattle for most of my life I felt like there was a need for a change of pace. My parents and close friends are still there so Seattle will always have my heart, but I felt like I needed to grow as a person and in my career and I knew that would be found in LA.
PW: Who are some of your biggest musical influences?
TA: This is a tough one (laughs). I am a big fan of almost all genres of music. I hate saying this because I feel like all musicians quote that, but I REALLY am. I'm so happy since Spotify came out because I'll literally go from listening to nothing but Drake for weeks, and then all of a sudden flip a switch and listen non-stop to Taylor Swift's first, second, third... okay all, of her albums. Then out of nowhere I'll hear a Martin Garrix song and be obsessed with EDM for the next month, after which it'll switch to Michael Buble's album for the holiday season. I've found I'm not tied down to a specific genre, but more so to melodies that make me feel something. Ryan Tedder and Bruno Mars have always had a big impact to me. Something about the melodies they create are always so powerful yet haunting, and always capture my attention. Whenever I sit down to write, I'm highly influence by those two.
PW: Tell us a little bit about your band New Heights and how it started.
TA: New Heights was a band that was started in 2006 and ended in 2013. I met the original band members at a talent show that we all had played at. We enjoyed each other's sets and decided to start jamming. Eventually we got serious, created a name, started recording and then over the next 7 years did everything we could to make this a career as independent musicians. We completed 3 EPs, one full length album, booked our own shows, our own tours, took meetings with major labels, played festivals and colleges - it was a real grind (laughs). Although it may not have ended the way that we hoped, we all had the best time of our lives pursuing it and learned so much about who we are as people and as friends. I wouldn't trade those years for the world.
PW: LA is all about having friends as extended family. Would you say you have a core group that keeps you grounded out here?
TA: Absolutely. I believe in the saying "birds of a feather flock together". The people you surround yourself with have a direct impact on who you are and who you become. I'm so thankful that my core group of friends may not be in the same industry as me but they understand the type of grind it takes to make a career in entertainment. It was honestly because of my buddy Colton Haynes and my girlfriend Ally Maki that encouraged me to start posting weekly covers on YouTube. Without them I wound't be where I am today. Their work ethic and drive keep me encouraged and fighting through the up and downs. They've really taught me that it's not so much about where you end up, but how you get there - in other words, embrace the journey.
PW: You just covered Adele's "Hello" - what helps you decide the new cover song you will be releasing each week to your fans?
TA: For me, the songs that I cover has to have two things. First, it has to be a new popular song. I always get asked to do older songs, however my weekly cover series at the moment is specifically for new released, relevant, trending songs. The second is that it has to sound right with my voice. There are plenty of songs that I'd love to cover that don't sound the best with my voice/style and I've learned to be okay with that.
PW: Do you have a favorite of all the covers that you have performed?
TA: It's funny because I always have a tendency to say that the newest cover I did is my favorite, most of the time (laughs). However if I had to pick one it'd have to be a toss up between Taylor Swift's "Style" because of her tweet about it, and "See You Again" by Charlie Puth and Wiz Khalifa because of my take on the verses. It was fun sing-rapping! I think at the end of the day with covers you have to keep a balance of your artistic spin on the song without taking away the magic of the original composition. I hope to do that every week for my supporters and those who choose to listen.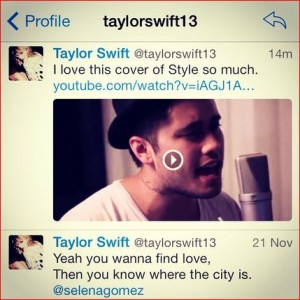 Courtesy of Twitter
Subscribe to Travis's YouTube Channel,
and continue to follow his amazing journey across social media on 
Facebook and