Travis Van Winkle recently let PopWrapped join the adventure that landed him on TNT's The Last Ship. Set sail with him as season 2 premieres this Sunday (June 21) on TNT.
The show was filmed first as a pilot, and then ultimately picked up for a full 10-episode season, in which Van Winkle portrays a Navy SEAL commander stationed on one of the last U.S. Navy destroyers to survive a world-wide epidemic. It's easy to see why Van Winkle was cast for the role.  He looks like a SEAL.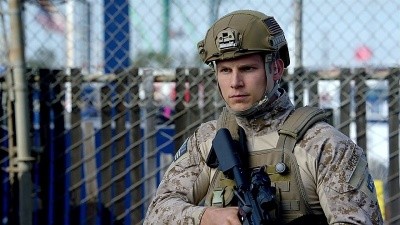 Credit: TNT
"It's been a long process," he reminisced. "We shot the pilot, then waited almost a year to film season one, and then another year to shoot season two…So we have been with this family for almost three years now. It's a really beautiful feeling to have such a great team."
With season two of The Last Ship about to air, I couldn't resist asking for a tidbit for our readers.  According to him, it's going to be "Bigger, better, badder."
:If they thought season one was big, if they thought season one had amazing story lines, season two will blow them out of the water."
There are plenty of changes in store as well.  "It goes in a direction you wouldn't think it would. New characters you will fall in love with, and you get more of our characters you already know on a much deeper level. So I really feel like even the scale, the production quality, they took it to a new level. Last year, felt like you were watching a movie. This season, I'm telling you every episode is like a bad ass movie. I can't wait for everyone to check it out this season."
So make sure you tune in this weekend.
Thanks for the exclusive, Travis. In the words of those famous Golden Girls, we thank you for being a friend. We will see you on The Last Ship tomorrow night!
This has been a Lane Twins PopWrapped EXCLUSIVE with Travis Van Winkle.