Who in Hollywood can say they are a series regular on a mega-hit cable TV show and working with one of the most sought after producers in Hollywood?  Travis Van Winkle can.
The 32-year old is making a name for himself in Hollywood these days. He just wrapped Season Two of , The Last Ship on TNT, and is getting ready for a globe-trotting mission to Africa. He sat down with The Hollywood Billboard and shared with us how, in many ways, his ship finally has come in.
"I feel like I have auditioned for 10 years straight over and over, " he said.  Van Winkle, or TVDub as he's known on social media, didn't just step into success--he earned it one step at a time.
Never afraid of the audition process, Van Winkle charged straight ahead at landing the coveted role of LT Danny Greene. "I tested for pilots, for studios, and networks, for years and came in second so many times," he said. "I got closer and closer, but nothing ever panned out. When it came to auditioning for this show, I walked into Denise Chamian's  audition room, put myself on tape, she got it to Michael Bay, and I got the job. It was a beautiful way to get a series regular. I didn't go through the hoops like before.
While the second season will premiere in late June, Van Winkle has been working with this role for a while. "This is the best character I've ever played.
The show was filmed first as a pilot, and then ultimately picked up for a full 10-episode season in which Van Winkle portrays a Navy SEAL commander stationed on one of the last US Navy destroyers to survive a world-wide epidemic. It's easy to see why Van Winkle was cast for the role.  He looks like a SEAL.
"It's been a long process," he reminisced. "We shot the pilot, then waited almost a year to film season one, and then another year to shoot season two...So we have been with this family for almost three years now. It's a really beautiful feeling to have such a great team.
A fun day on the set of 'The Last Ship' with mom, Sally, and dad, Chas. Courtesy of The Hollywood Billboard
Long before he landed TLS, Van Winkle appeared in to very memorable movies:  Meet the Spartans and Michael Bay's remake of Friday the 13th.
"I remember on the set of Meet the Spartans, it was the first time my grandma and grandpa ever visited me on a film set," he said. "My grandfather was such a huge advocate for my career. He always told me to make an investment on myself. That's the first step. So I would take out loans for acting classes. I would do whatever it took to get me to the next level."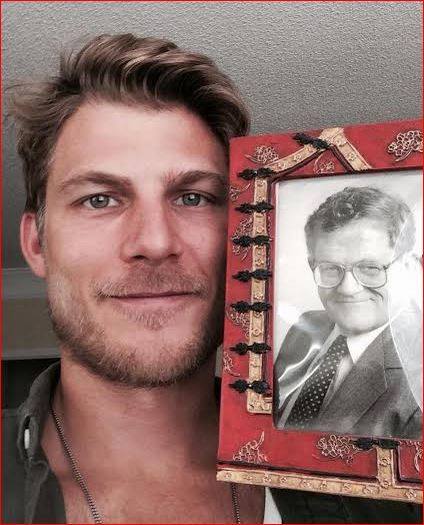 TheHollywoodBillboard.com
That wasn't always an easy thing to do.  "There were times I needed a publicist, and I didn't have the money for it. (My grandfather) would say, 'you know what, I'm making an investment in you. Because your gonna need this down the road, and I know your gonna make it.'"
"That kind of support allowed me to keep going at the pace that I was going. So for him to be on set, for the first time ever was amazing. It was actually the scene where I actually got my head punched off. I remember being half way through the takes and my grandpa started giving direction to the director. It was a great moment.  I love that he got to see me in action," Van Winkle said. "He passed away not too long after that. It was very beautiful to have him around, and have him see what he had been investing in. It meant the world to me."
Since Van Winkle is on the short list of people who can claim to be killed by Jason Vorhees, I thought I'd explore how he felt about that.  Travis laughed. "You know what, I am honored to have been killed by Jason. The new Jason was the first of the new beginnings of the whole franchise. The new Jason was just insane. The way he killed me was just epic. Actually, my death scene was shot my first day of filming. So my very first day on set, I got to get killed by Jason Vorhees."
His grandfather's investment was much larger than helping Van Winkle's acting career.  He helped to develop a very rare gift--the gift of giving back. During the summer of 2013, Van Winkle made two trips.  The first was a sojourn to India for the purpose of soul-searching. Later, he jetted off to a remote part of Africa to help build a school for an impoverished village through the organization: buildOn.org.
After he helped build that first school, Van Winkle's life was changed. He returned home with a new mission: Giving back, was the way to move forward. He has since sought out local opportunities to continue improving the lives of others while living in Los Angeles. 
For the past four years, Van Winkle has been involved with the Los Angeles Big Brother/Big Sister program.
"Over the years of having a little brother, I probably have 10 of my friends that have joined the Big Brother/Big Sister program.
"We all have possibility to make an impact. They come from broken homes, and most of the time (these kids) don't have that guidance, so we do what we can to offer ourselves up (to fill that role) for these amazing kids. So if there is anyone in Los Angeles, girls or guys, that would like to be a part of this amazing program, please do." 
In the spring of 2015, Van Winkle brought a group of Hollywood friends together--they call themselves Team Hollywood, composed of actors, writers, directors and singers. "We came together and hosted an event called LOVE LIFE which raised over $50,000 to build three more schools. Through Build On, we are building a school in Malawi, this summer. We are also sending 15 kids from build On inner city program in Detroit, to build an additional school in 
Malawi."
In the Fall, Van Winkle will head to Nepal to build the third school. "Together we united a Hollywood community and raised over $100,000. To serve other people is a life changing process. It's a win-win scenario that enhances the lives of everyone involved." He will leave for Africa in mid-May.
With Season Two of The Last Ship about to air in June, I couldn't resist asking for a tidbit for our readers.  "Bigger, better, badder," was his short answer. "If they thought season one was big, if they thought season one had amazing story lines, season two will blow them out of the water."
There are plenty of changes in store as well.  "It goes in a direction you wouldn't think it would. New characters you will fall in love with, and you get more of our characters you already know on a much deeper level. So I really feel like even the scale, the production quality, they took it to a new level. Last year felt like you were watching a movie. This season, I'm telling you every episode is like a bad ass movie. I can't wait for everyone to check it out this season."
When visiting other countries with BuildOn, Travis jumps right in to work with the children. Smiles win a heart everytime.
 On a personal note, I met and befriended Travis when he first moved to Hollywood some 10 years ago.  I was the first person to run lines with him for his first audition.  I knew there was something very special about him.  He was genuine, and sincere and has stayed that way. Watching his career grow has been truly amazing. He is a great guy, a true talent. He inspires me daily, and I have no doubt that I, too, will be building a school with him very soon.
Visit his official web site at www.travisvw.com. Like him on Facebook and Instagram or follow his latest adventures on Twitter.