It's coming to be a common theme amongst TV series across the spectrum.
Lost, Dexter,
The Sopranos
and
How I Met Your Mother
fans know what I'm talking about: lackluster series finales that pose more questions than answer and leave us wanting more. Last night was an eventful evening for television. I chose to skip the VMAs (and, subsequently, Beyonce's live performance. Thanks for THAT HBO, ya assholes) and instead watch the
True Blood
series finale. I have, after all, been watching from the start and am an avid fan of the books and show. Though, I must admit; I think reading the books was a mistake as far as the show goes. The books are spectacular; the show, well, that's a horse of a different color. But I digress. I'm going to break down the finale into parts and try my hardest not to veer off in fits of rage and just explain all that was wrong with this shitshow. Jessica and Hoyt: I'm glad they're back together. Hoyt doesn't want kids, Jess can't have kids and they really are just adorable together. Can't say I'm surprised that they got married, especially since it was basically Bill's dying wish, but it was definitely trite. But anyway, Jessica looked ravishing in her ivory dress and Hoyt cleans up nicely as well. They're cute, but boring. Honestly, the best part was Andy as the officiant; but that's kind of par for the course as Andy has ended being one of my favorite characters.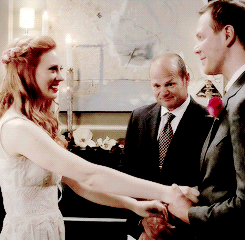 Stormborns.tumblr.com
Eric, Pam and Sarah Newlin: Pam and Eric finally kill the Yakuza henchmen and decide to capitalize on Newmi themselves. FINALLY! I have been waiting for Eric to get all badass viking for like, this entire season. And they, at least, did not disappoint. When he's in that fast and furious car doing the
Night at the Roxbury
dance I was dying. Thank Lilith for Eric and Pam. Their infomercial at the end of the episode for "New Blood" was the episode's only redeeming scene. I don't really tend to think of myself as a spiteful and unforgiving person, but I was thrilled that Sarah Newlin will spend the rest of her days chained in the basement of Fangtasia as a delicious, live vaccine. If that's not just desserts I don't know what is.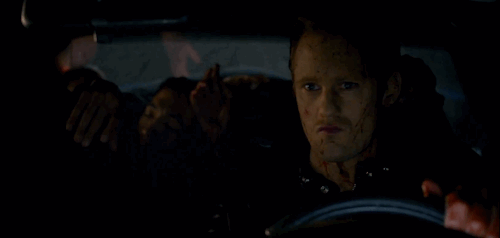 Jason and Bridgette: Duh. We obviously knew this was coming because moments after Jason tells Arlene (I think that's who it was) that he's never met anyone that took his breath away and that he could see himself spending his life with, Hoyt and Bridgette walk in and Jason is clearly breathless. So this beautiful, brilliant research scientist gave up her work in Alaska to move to the backwoods of Louisiana and birth a brood of Stackhouse youngsters? UGH! The feminist in me is especially infuriated by this episode. Sookie and Bill: Okay Bill, we get it. You're a martyr. You want to die so that Sookie may truly live. That's very chivalrous of you. But now you want her to expound the last of her faery light and kill you so that you can kill two birds with one stone? You're literally asking the woman you love to kill the love of her life and cease being who she is so that she doesn't find an even sexier vampire lover? I know this was supposed to be a selfless act on his part but I found the whole thing sappy and ridiculous. She finally tells him that she can't do that because, for better or worse, she IS fae and she'd like to stay that way. So, instead, she climbs atop him in his coffin and stakes him. The whole time this is happening I am saying to my husband: "Why is she doing that? Why doesn't she just stand next to him? Vampires literally become explosive piles of goo when they're staked and she's gonna get drenched." And then she got drenched and it was disgusting. But anyway, Bill is dead. I mean, I don't want to sound insensitive, but finally. That was strung out for far too long.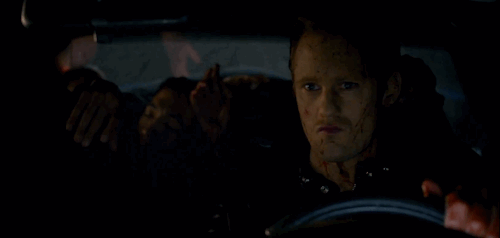 Lafayette and James: _____________________________________________________. That's right: NOTHING. NOT. ONE. DAMN. WORD from everyone's favorite character. What is wrong with these showrunners?! Everyone knows that Lala is the favorite. That's why he wasn't killed in the very first scene like he was in the novels. Of all of the terrible things that were done in this pointless episode, not giving Lala even ONE speaking part is by far the most egregious crime. He deserved more than what they gave him, and so did we. So, the very last scene in the very last episode of this entire, groundbreaking series was a nice little dinner party at Sookie's house. All of the remaining characters are gathered together under a beautiful display of lights and domesticity. Sam comes back with his beautiful little family, Arlene and Vampire Keith are there and clearly together, Andy and Holly and their family are in attendance, and everyone else (including the silent Lafayette and James) is there as well. And, in this scene, we see that Sookie is extremely pregnant. Now remember, this is a time jump. The last five minutes were just them jumping ahead one year, three years and then five years after that, etc. So I'm thinking the very last shot will be of Sookie's husband. NOPE, WRONG AGAIN, ASSHAT! We never even see Sookie's husband. And I guess I get what they were doing: it was about Sookie, not her man. Except that's ALL they made it about. We don't know if Sookie is still a faery, if she's still working at Bellfleur's, if she's gone back to school or chosen a different career path; nothing! All we know is that she's found a man to keep her and is having a baby. Sookie was always meant to be a badass heroine. She's a survivor who, admittedly, makes some questionable decisions. But to have her entire story be wrapped up in a barefoot and pregnant ending is an insult to her and those who loved her. So, in conclusion: Lafayette was straight-up robbed. Sookie and Bridgette are really fertile. Jessica and Hoyt are the cutest couple ever. Seeing Sam and his family made me happy. Sarah Newlin ending up as a drinking fountain is the best recompense ever. Bill is a pile of goo. Pam and Eric are the best. THE. BEST. Seriously, can we get them a spinoff?
Keep Up With PopWrapped On The Web!
Twitter 
SoundCloud
Facebook
Instagram
Tumblr
Pinterest
YouTube