Just like Facebook, Twitter has a right to experiment and change its site layout. This includes changing up the feed, changing up user profiles, and other minor or major changes.
But its latest experiment left the majority of its users unimpressed. Favorites showed up as often, if not more than, retweets on users' main timelines. Unfortunately, there is no way (yet) to remove these new notifications and posts. At least Facebook lets you hide posts and users you don't want to see! Twitter has yet to add any such "blinder" feature, leaving more users frustrated with each passing minute.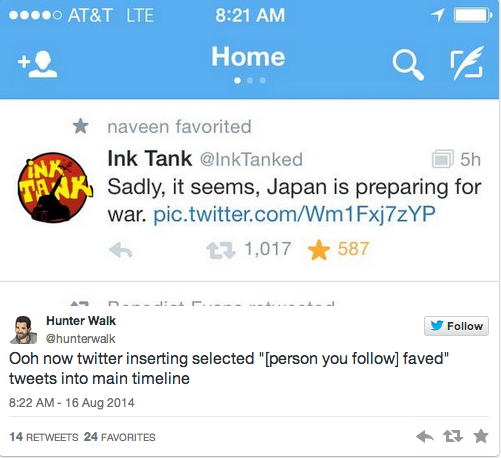 Courtesy of Twitter
While it can be argued the only reason this experiment exists is to increase engagement among the site's users, not everyone wants to see the latest tweet from someone they don't even follow. Most people flock to tweet-land because their timelines are unobstructed by ads and unnecessary posts. But this newest experiment may cause users to fly the coop en mass.

Courtesy of Twitter
Even celebrities are being affected by the company's latest attempts at engagement.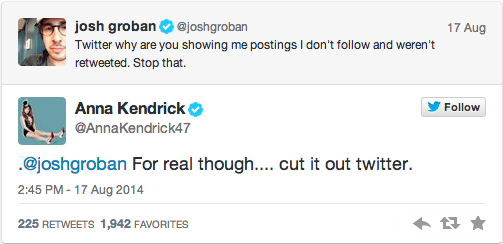 Courtesy of Twitter
All I know is, if Twitter wants to move this fast, it better buy me a drink first.
Keep Up With PopWrapped On The Web!
Twitter 
SoundCloud
Facebook
Instagram
Tumblr
Pinterest
YouTube