I can honestly say growing up I was one of "those" kids. I tried hard not to be honestly, but every time a music festival rolled through town, I'd join my friends and we'd get together our hippest outfits- yes hippest. We were branding ourselves, making sure we stood out in the crowd. Whether or not we had on the latest fad of silly bands, bright shoe laces, tattered jeans, rainbow hair or a snapback of our favorite band; you could be sure one of the members of our group was wearing a TWLOHA t-shirt. Though it had probably seen its fair share of festivals; stained, tattered, holy and well-worn; it was a fad that wasn't going away anytime soon. It would be easy to slap on the apparel without first having an idea of the meaning behind it; however, TWLOHA is a unique presence; and, for my friends and me, when you branded yourself with their logo; you definitely did so with purpose. The organization has support in every genre of entertainment from Miley Cyrus, Paramore, Boys Like Girls, Switchfoot, One Republic, Christina Perri, Anberlin, The Rocket Summer, Joaquin Phoenix, Skillet, Mayday Parade and Panic! At The Disco. For those of you who may not know, To Write Love on Her Arms (TWLOHA) is an American non-profit organization which aims to present hope for people struggling with addiction, depression, self injury and thoughts of suicide while also investing directly into treatment and recovery. The organization was founded in 2006 by
Jamie Tworkowski
, and has been bridging the gap between traditional treatment and the lives of people who need help. I was able to connect with with Music & Events Coordinator, Jason Blades, to discuss his role with TWLOHA and the work he does with this incredible organization.
How long have you been with TWLOHA?
I have been involved with TWLOHA since 2009. I started out as an intern, and got asked to represent TWLOHA as part of
Warped Tour
. I finished college and was offered a full time position in 2011 as one of two Music/Event coordinators.
What attracted you to the organization?
I was drawn to TWLOHA by their ability to communicate. They were addressing issues that were near to my heart. I had friends and loved ones that struggled while I was growing up. They weren't offering a quick "fix" for mental health struggles, but suggesting the idea that we are not ever alone, and that we need to have other people in our life to help. I loved that idea, and ever since I have found it to be true. We need people in our life to celebrate our greatest and best moments as much as we need them there with us at our hardest.
As the Music and Events Coordinator, what are you responsible for?
As one of two Music and Event Coordinators with TWLOHA, our role as a program is to find creative ways to connect the mission and message of TWLOHA to as many people as possible. We are trying to meet people where they are. We work with and host a number of music festivals, conferences, benefits, athletic events, college shows, etc. My primary focus has been working on events within the music industry as well as with artists, collaborating and utilizing their platform to help promote our message to those that may be struggling or know someone struggling.
What is your favorite aspect of your role?
My favorite part of my role with TWLOHA is that I often will get to be the first point of contact between TWLOHA and our supporters or future supporters. It is amazing to see how the message of TWLOHA continues to change and save lives.
When you're on the road (ie: Warped Tour) you come in contact with a
lot of fans; do you have any stories or specific moments that stand out to
you?
To pick only one story would be a disservice to everyone that we hear from, there are so many all over the world. I can honestly say that we hear from supporters every day, whether it is in person, over the Internet, or social networks about the work we are doing, and what it means to them- or they share a part of their story. In either case, it is such an honor to meet them and to listen to what they share. It is why we exist.
What would you tell readers and fans of TWLOHA; the work the organization is doing and how they can get involved?
I would tell them to head over to our website:
www.twloha.com
. We have put together a comprehensive list of localized and national mental health resources and a
"Find Help"
page for those that might be struggling or need resources for someone else. In addition to that, we have a page called "get more involved." It has between 5-10 different and unique ways that everyone can be a part of TWLOHA and get involved. Whether or not you've been on the receiving end of the help TWLOHA connects people with, or you know someone who has or may need this kind of help; this is an organization we can all stand behind and support. Visit the website and visit the Find Help page if you are reading this and currently searching for answers. Also, World Suicide Prevention Day is coming up on September 10th and TWLOHA is offering packs to help raise awareness. "No one else can play your part," so get involved.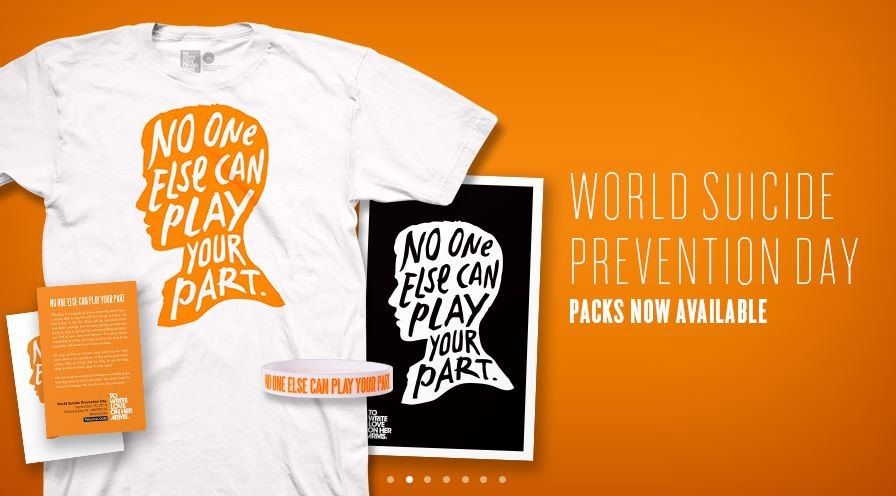 Courtesy of TWLOHA
TWLOHA is not a 24-hour helpline, and are not trained mental health professionals. TWLOHA hopes to serve as a bridge to help.
If this is an emergency, or if you are worried that you or someone you know may be at risk for suicide, please call your local authorities (911), contact a mental health professional, or call and talk to someone at 1-800-SUICIDE (784-2433).
To report child abuse or exploitation, please go to NCMEC CyberTipline.
Keep Up With PopWrapped On The Web! Twitter  SoundCloud Facebook Instagram Tumblr Pinterest YouTube