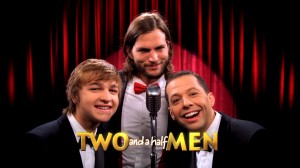 Shane Avery
Senior Staff Writer
@ShaneAvery
In a plan to bring the long running CBS series full circle, "Two & a Half Men" creator Chuck Lorre is taking a very unique route.
One that has some up in arms.
The shows 12th and final season will see Walden (played by Ashton Kutcher) PROPOSE to Alan (Jon Cryer) so that its an easier attempt for him to adopt a child. Walden comes to the conclusion that its very difficult to adopt a child as a single, straight man and enlists Alan's help. Chuck Lorre told The Hollywood Reporter:
"You're going to see two men who are not gay but are going to raise a child with a great deal of love and attention,"
"Their sexuality is irrelevant to loving and caring for a child, which maybe that's the big story that we wind up telling: taking a kid out of the system and giving him a home. What's better than that?"
The duo, and soon to be "couple" will find assistance from Jenny (played by Amber Tamblyn). Chuck's plan, mentioned before, is by bringing a young boy into the household, it takes the series FULL CIRCLE back to it's title. I'm not sure how I feel about this plan but what do you guys think?
Keep Up With PopWrapped On The Web!