Sentai Filmworks highly-anticipated March release Monthly Girls' Nozaki-kun has at last found its Umetaro Nozaki and Chiyo Sakura. Ty Mahany (Diabolik Lovers) and Juliet Simmons (Nobunaga The Fool) have been cast as Nozaki and Sakura, respectively.
The popular anime licensing company released two short teasers that preview Mahany and Simmons as Nozaki and Sakura. Mahany and Simmons join Scott Gibbs, who voices Mikoto Mikoshiba aka Mikorin, and Monica Rial, who voices the lovely Yū Kashima.
Check out the short previews down below!
Sentai Filmworks describes the hilarious plot of Monthly Girls' Nozaki-kun as the following:
Love is the spirit that motivates an artist's journey. Or, rather, it can and should be. Of course, for mangaka artist Nozaki… he's clueless when it comes to those special feelings of love coming from his own classmate. It's the age-old tale: the girl's into a guy that barely knows they exist. And it's no different for Sakura. While all she can think about is him, all he cares about is the publication deadline looming over his head. Unfortunately, this all came about because Sakura didn't share her true feelings with Nozaki.

This all leads to a huge misunderstanding – and, as a result, Sakura becoming his assistant. Little did she know, but she now works for one of her favorite mangakas. Only she's a he! And that's the strange part; Nozaki is the creator of the popular shojo manga, Let's Have a Romance!, under the alias of Yumeno Sakiko. So, how could such a stubborn numbskull such as Nozaki be so in touch with a girl's wants and needs to create such inspiring stories that Sakura loves? And will she spoil their working relationship to finally admit how she really feels about him?
The anime is an adaptation of Izumi Tsubaki's manga series of the same name. Yen Press has licensed the manga series with the 2nd volume just released this past February 23.
Monthly Girls' Nozaki-kun will be released in three different editions on Mar. 29. The DVD will retail for $59.98, the Blu-ray collection for $69.98 and the premium edition box-set for $129.98.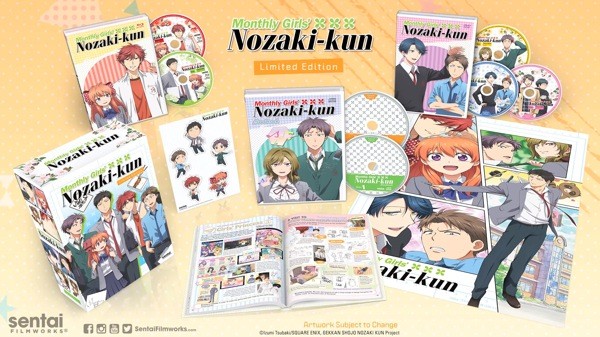 Sentai Filmworks
The series is also available for streaming on Crunchyroll – I highly, highly recommend this anime. It's a 30 minute, 12 episode journey you won't regret taking.