The future of Universal Studios in Orlando just got a little bit sweeter...
Universal has just announced that they will be opening the Toothsome Chocolate Factory and Savory Feast Emporium on Universal Citywalk.
The name is quite the mouthful, and it looks like the flavors that this new restaurant will incorporate into it's menu will definitely be the thing that has visitors feeling like they're at Willy Wonka's famous Chocolate Factory.
While the restaurant seeks to include typical restaurant foods like pastas, burgers, etc., the current plans for the restaurant includes the building physically looking similar to the famous fictional factory. There will be signature artisan milkshake combinations like the "Chocolate x5", a S'mores sundae, and whatever other elaborate desserts the chefs can come up with between now and the restaurant's opening.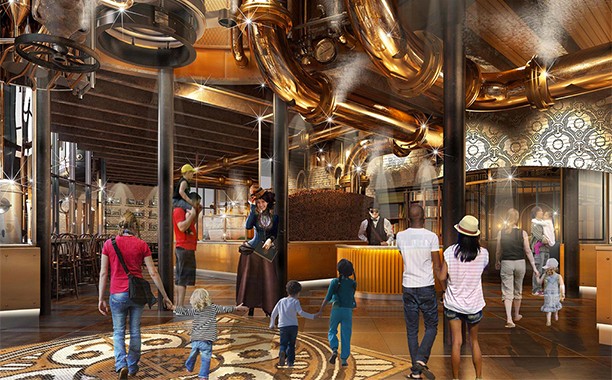 ew.com
The inside of the restaurant is going to be a steampunk environment, with the artistic combinations of machinery, brasses and dark woods. Employees are going to look and act the appropriate part for this steampunk restaurant, which will be located near the entrance of the Islands of Adventure park.
Visitors will also be able to watch the creation of the chocolate treats and even get to take home some goodies from the restaurant's shop. Although currently the restaurant is lacking the eccentric Willy Wonka character, this current plan adds to the unique nature of the theme park.
A real life, steampunk update on the classic Roald Dahl concept brought to life at Universal Studios will definitely be something for Orlando tourists to check out. Other than the bonus of not having to find five golden tickets to gain access, guests of Universal Studios will soon be getting the opportunity to enjoy a world of pure imagination. At least no one should have to worry about getting stuck in the chocolate river or becoming a giant blueberry at this restaurant... Hopefully!
The Toothsome Chocolate Factory and Savory Feast Emporium will be opening later this year.