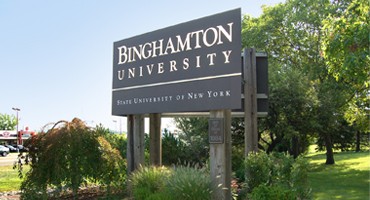 It's almost time for students to trade in their beach towels and sunglasses for textbooks and homework with the beginning of the school year fast approaching.
But with the classes still not yet being officially in session, there is one university that is gaining some attention for one of the courses being offered for Resident Assistants (student leaders within campus dormitories).
The State University of New York at Binghamton, or SUNY Binghamton for short, is offering a training session for RAs called "#StopWhitePeople2k16."
According to the three RAs who were presenting at the session, the course is meant to "help others take the next step in understanding diversity, privilege, and the society we function within."
The session is further explained in the description as:
Learning about these topics is a good first step, but when encountered with 'good' arguments from uneducated people, how do you respond? This open discussion will give attendees the tools to do so, and hopefully expand upon what they may already know.
This class will not be available for all students, at this point it is just a part of the training process for RAs. The session seems to be one of many that RAs go through to help properly educate them on different scenarios that they might encounter while on duty in their respective roles.
Despite the feelings of some that the session's title only encourages division among students, the administration emphasized that the course was not intended for racist purposes. The session is not mandatory for the RAs to attend, but is optional for the students to take.
We verified that the actual program content was not 'anti-white', said Vice President for Student Affairs Brian Rose. "The program title, '#StopWhitePeople2k16' was drawn from a familiar hashtag in use on Twitter and was not invented by the program facilitators. It is my understanding that the hashtag is commonly used ironically.