Money. Dick. Power. The UnREAL ladies are back and in control, or are they? Read on to find out what happened on "War", the first episode of season two.
DARIUS
The season opens with Rachel (Shiri Appleby) and Quinn (Constance Zimmer) getting matching tattoos with what appears to be their new mantra, "Money. Dick. Power".
Lifetime
They talk about Rachel being the new Quinn and Quinn being the new Chet, and as they are on their way to Las Vegas to pitch Rachel's idea to the network she receives (and ignores) a call from Adam. Remember Adam? Last season's suitor, had an affair with Rachel, got his heart broken? Yeah, that guy.
After a night of sex, drugs and alcohol in Las Vegas, the executives are sold by the ladies' idea, which involves something the show has never done before – and something the show which "Everlasting" is based on, The Bachelor, hasn't done either, we might add – and that is, having a black suitor.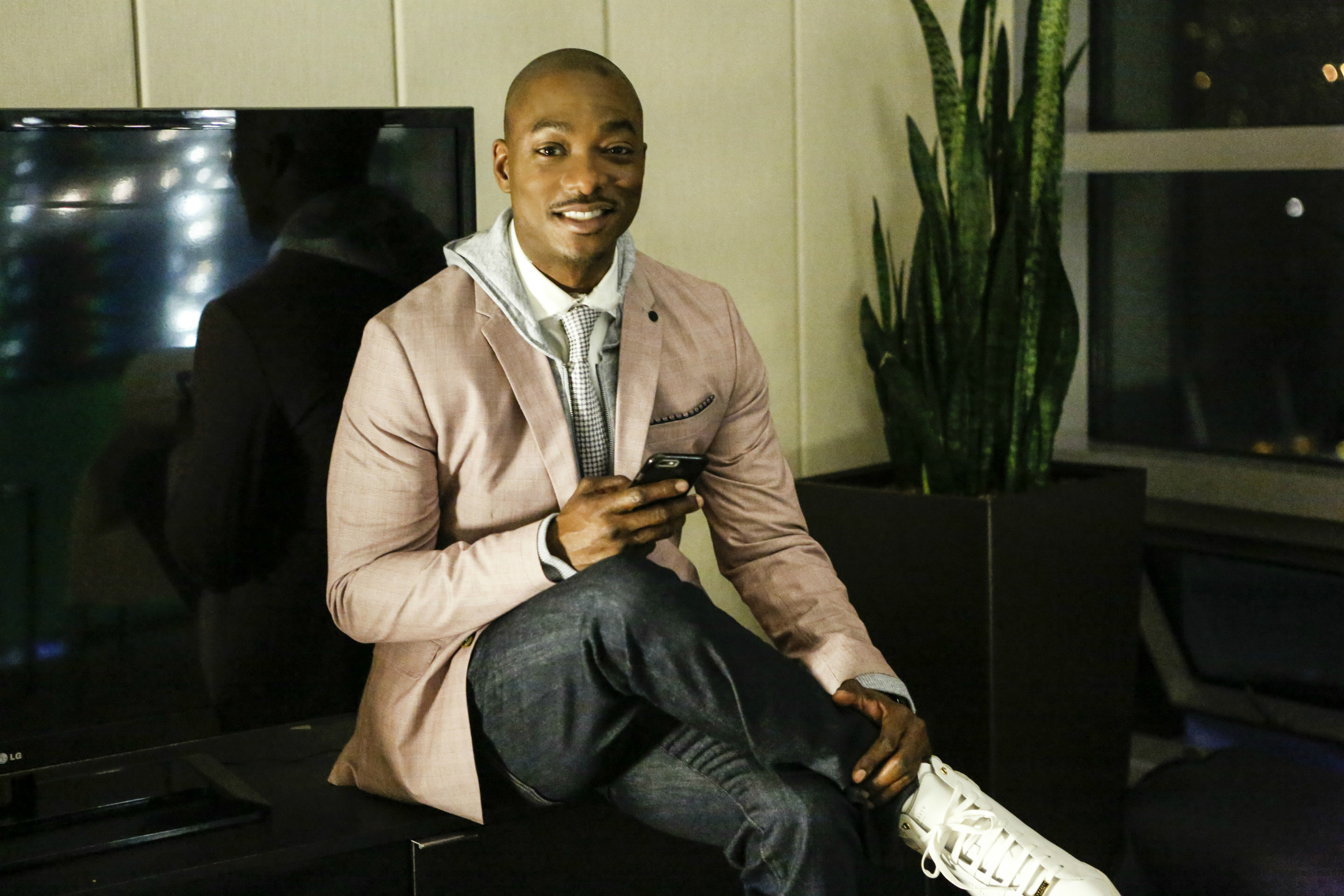 Lifetime / Sergei Bachlakov
The network executives are elated, one of them – Brad – even declaring to Quinn: "You just made my dick hard."
Lifetime
EVERLASTING GIRLS
Gary, the Network president, is not as enthused though. He calls Quinn the following day and she, of course does her best to convince him they have a great idea on their hands, after all, NFL quarterback Darius Hill is not just black, he's "football black." Gary is still not entirely on board but Quinn seals the deal telling him: "I promise you 20 million viewers. The minute black hands on a white ass, Twitter will melt down." She then proceeds to tell Gary about the girls for the show saying they have "a hot racist, an even hotter black activist power person, a clergy and a terrorist", naturally. He finally accepts, but since the show is already cast and the girls promised by Quinn are, of course, non-existent, it's up to Rachel to make it happen.
The character of Quinn is usually one of the most fun and quotable characters on TV, and the scene in which Rachel is presenting her with the Everlasting girls does not disappoint.
Talking about Tiffany, a "wifey" who doesn't want to talk about her father, Quinn says, "So maybe her dad was a creep. Or a pedophile hopefully."
We meet London, a Pakistani girl which, as Rachel says, might have distant links to Osama Bin Laden. "Now she does" replies Quinn. Rachel agrees and towards the end of the episode we see the producers trying to get her to wear a headscarf.
Then, we get a glimpse of Beth Ann, a Mississipi girl who had her pictures of her posing while wearing a confederate flag bikini on Instagram. Wow, girl.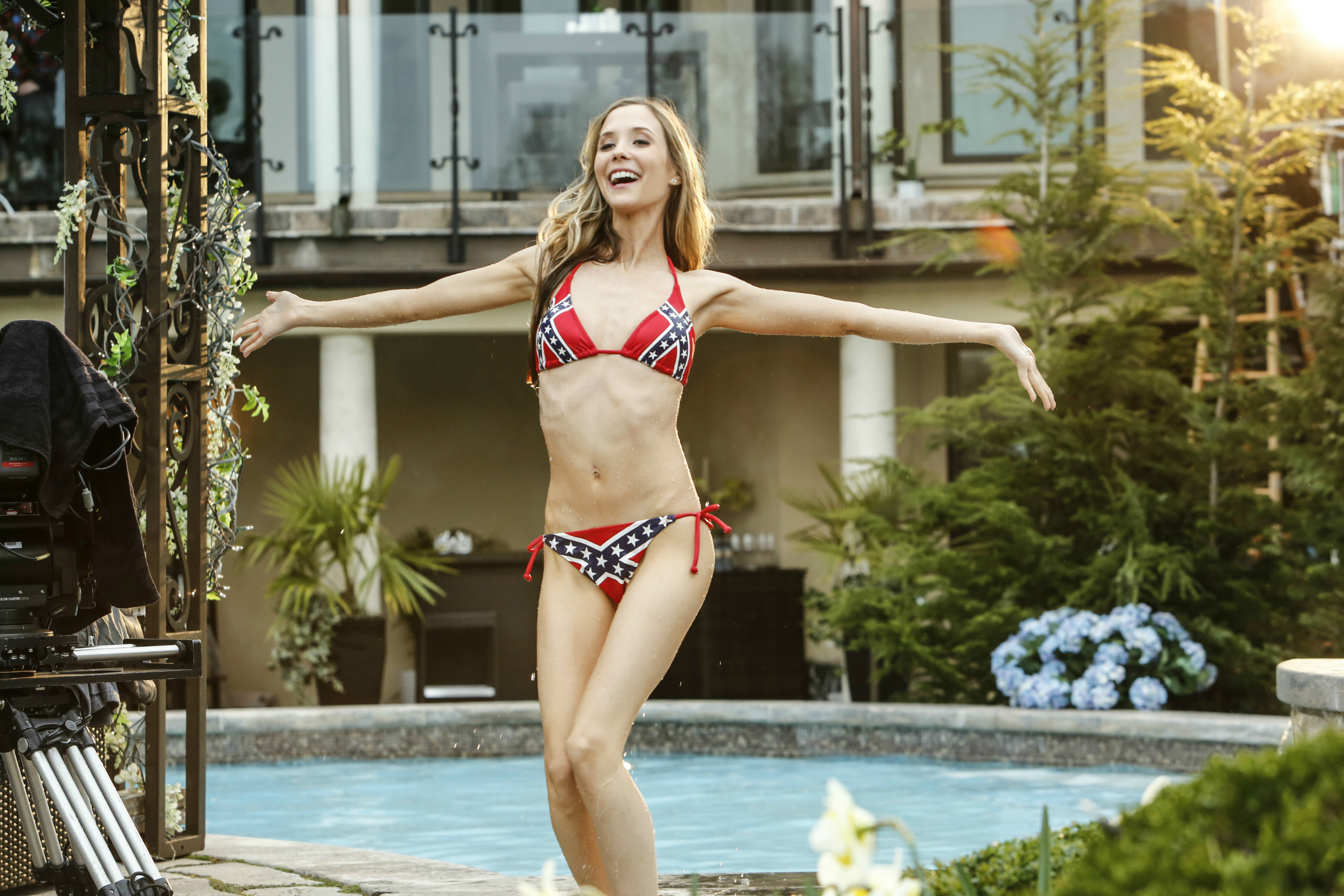 Lifetime / Sergei Bachlakov
Finally Ruby, who "takes black women to a level of blinding rage" is introduced. Quinn is fawning over how much good TV she will have with the obvious confrontations between Ruby and Beth Ann, when one of the producers, Jay, tells them Ruby did not sign on for the show because she would have to miss her senior of college. Quinn tells Rachel to fix it, "I want the blacktivist here by tomorrow morning."
Jay and Rachel then have a heart to heart/confrontation, where Jay tries to get some sense into Rachel, reminding her what Quinn did to her the prior year. Rachel doesn't want to hear it and says everything is fine between them, since she's now executive producing the show. She also keeps saying that they're making history and that they are serving a greater good by having a black man as the suitor. Seems to me she's trying to convince herself. Rachel has always struggled with balancing her feminist, more moral side with her producing, manipulating side, and now that she is running the show, the latter seems to be obliterating the "better" Rachel.
Lifetime
Beth Ann talks to Madison, another producer, about the sleeping arrangements explaining to Madison, while full on crying, that it's "very uncomfortable" for her to share a room with Chantal, who happens to be a black girl. Madison goes to Rachel to tell her if she can switch the roommates to help out Beth Ann and this is Rachel's response: "We're not camp counsellors! We don't solve problems, we create problems and then point cameras at them."
Speaking of Chantal, whose fiancé died, Rachel wants Madison to talk to her and get her to break down on camera. Madison doesn't know hot to get Chantal to open up so Rachel offers some advice, "Tell her your mother died or something." To which Madison replies "My mom did die." "There you go! Use that!" Rachel answers, showing viewers how low her morality and empathy are at. Madison is still not getting Chantal to speak about her fiancé so Rachel gets on her ear and makes her repeat everything she says, giving us one really uncomfortable scene with horrible questions for Chantal. Both Chantal and Madison, who throws up, are sobbing by the end of the interview. But apparently Madison loved the rush and declares the experience amazing. I think this one is going to be a new little Rachel or she's going to have a total breakdown. We'll have to wait and see.
Lifetime
JEREMY
Back on the set after Las Vegas, Rachel learns that Jeremy has been talking with her mother about her mental state, so she goes to have a little chat with him about it. Remember Jeremy? Was engaged to someone else but was really still in love with Rachel, had an affair with Rachel, got his heart broken? Yeah, that guy.
Jeremy is totally hard on Rachel, telling her he doesn't care about her. She's clearly affected by all of this but stays strong in front of him.
Jeremy undermines Rachel at a staff meeting, speaking about a contestant nicknamed "Hot Rachel": "She's the one that kind of looks like you, except she's hot and not crazy, and takes showers from time to time." Rachel wants to fire him but Quinn talks to her and tells her he's a sexual harassment lawsuit waiting to happen. "If we fired everyone we had sex with, we wouldn't have a crew" she says.
Rachel doesn't ignore him as Quinn told her, but instead goes to him and fires one of Jeremy's crew members. Jeremy protests and tells her he needs everyone on his crew or else the show won't look good on TV. Rachel says if the show is a mess that will reflect on him and his team so she won't have a problem firing him. "It turns out, being a sexist man-baby on my set has consequences," she tells him.
CHET
Chet is back! After seeing some shots of him at a retreat in Patagonia, we finally see him on Quinn's office, her thoughts – as well as ours – "where did the rest of you go?" Chet came back from the retreat a changed man, saying "Everlasting" is his kingdom and he's back to reclaim it. He's after all, a man. After Quinn throws Chet out of her office, he approaches Darius and we know there's something brewing in that twisted mind of his.
The show is about to start and Rachel is full of pride as she counts down to action. I think it's one of the first times we've seen her look serene, accomplished and happy. It's a beautiful thing and we just know it's not going to last.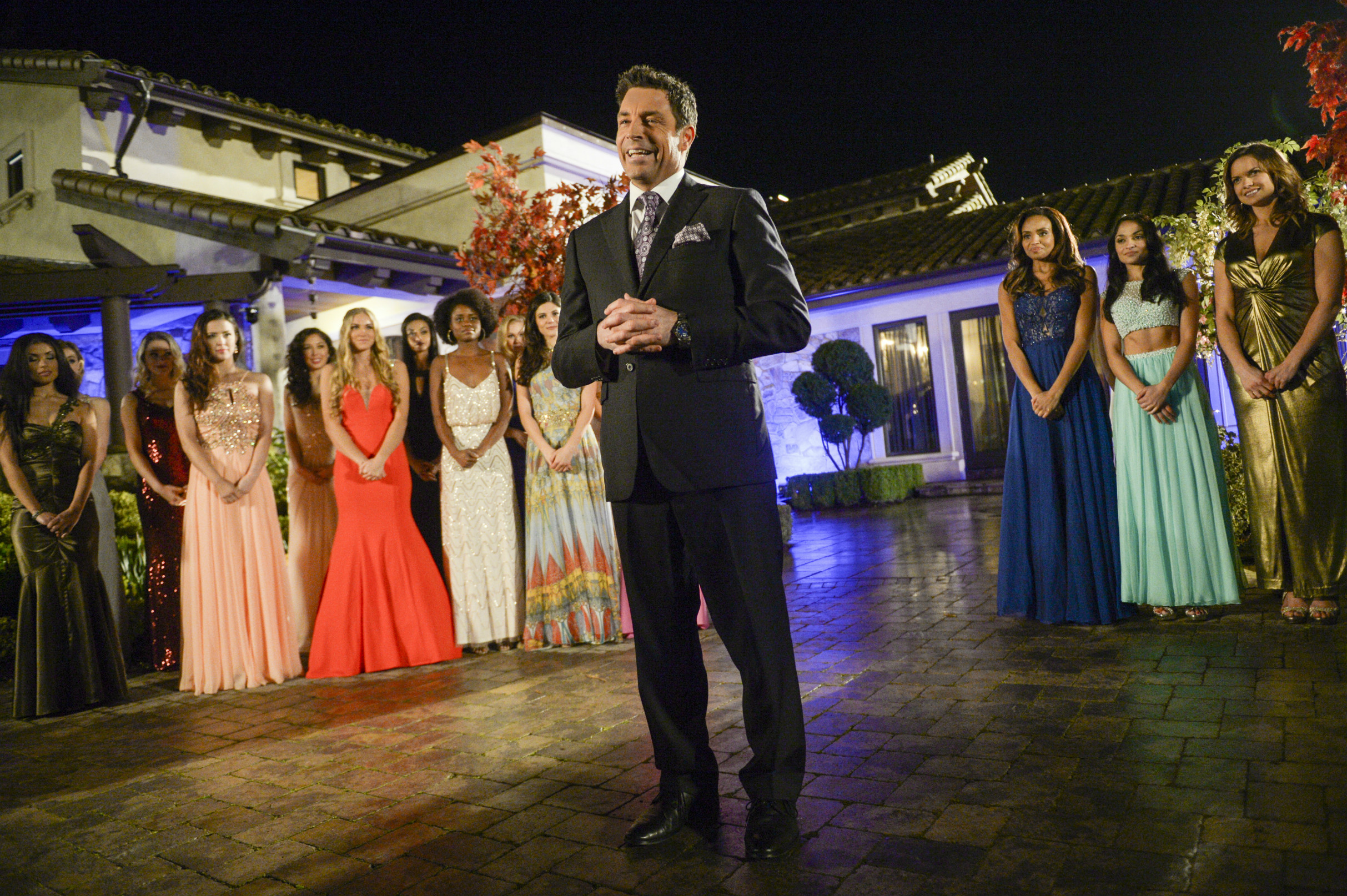 Lifetime / Sergei Bachlakov
Sure enough, after "Everlasting" host is finally ready – "What is he getting a chimpanzee face transplant?" – and about to introduce the girls to their suitor, the limo door opens and the only thing in there is a ringing cellphone. Quinn takes the phone and lo and behold, it's Chet, who says Darius is his suitor now and if she wants to talk to him she has to go through Chet first.
Quinn and Rachel go to look for Darius at Chet's place, where Chet and Quinn negotiate, as she tells Chet that while he has Darius she has got the girls. Chet want to revamp the show saying men now are "wimps and bitches" and he wants to leave a legacy with the show, that they need to show the audience "the natural order of things". Ugh, Chet, go back to Patagonia and ask for a refund because everything they sold you there is a steamy pile of poo.
Chet wants the girls to come to his house in bikinis, Quinn counters that the girls will be in bikinis but at the Everlasting mansion. They agree, but he declares war.
"May the best man win," he says. "She usually does," Quinn fires back.
Lifetime
Quinn and Rachel leave Chet's house and prepare the girls for the bathing suit extravaganza, Ruby, who Rachel got on the show by lying through her teeth, is wearing a modest but perfectly fine one-piece, "unless you have a great story about being a burn victim under there, you've got to change" Quinn tells her.
Rachel tells Quinn that if she continues to follow her around instead of actually executive producing the show, no one will know she is the one running it. Quinn tells her she's going to take over as showrunner until they end this drama with Chet, but promises to give it back to Rachel as soon as it's over. "Money. Dick. Power, Right?"
Lifetime
The episode ends with Rachel with tears in her eyes as she has, once again, been screwed over by Quinn.
I thought it was an incredible first episode of this new season. It set the tone for what the season is going to look like and our heroines Rachel and Quinn were better (and worse) than ever. If the season keeps giving us episodes of this calibre, there is no need to worry about an UnREAL sophomore slump.
What did you think? Did you enjoy "War"? Do you think Rachel is going to evolve into a full-on Quinn-like capital B, or do you think she'll revert to her old ways and kind of look like this once the season is over:
Lifetime
Tell us your thoughts and tune in for next week's episode and recap!