This week's episode, Treason, was full of… well, treason, as both Quinn and Rachel's disturbing relationship, and Darius and Romeo's partnership are tested.
We begin the episode with Madison giving Quinn the sad news that her father just died. This evidently affects Quinn but, of course, she puts on her tough exterior and screams at Madison to get out.
Meanwhile we see Chet, who kidnapped his baby at the end of last week's episode, and has decided to bring him to set. The girls are pretty much the only ones excited to have the baby on set, with Rachel telling Chet, "Could you please just keep the baby away from the girls? It's like lady catnip", and the Jay, upon seeing him "Ewww, is that a real baby?"
Rachel finds out Quinn's dad died and, even though she knows that Quinn probably hates her for going behind her back to talk to the network president, she still goes to Quinn's office to offer her condolences. Awww, she still has some humanity left. Quinn is cold as ice, as expected, and the pair gets into an argument that really isn't so bad until Quinn tells Rachel, "You need me behind you. Guiding you. Pushing you. Propping you up so you don't crack. But you always crack Rachel. You're unstable. And ungrateful. And you cannot make this show without me." Ouch. That was mean even coming from Quinn and I think this war between these ladies is just getting started.
After that showdown, Rachel brings a doctor (disguised as a messenger) to Darius' room so he can assess the extent of Darius' injury. Rachel asks the doctor if he can give Darius something for the pain but he says Darius needs to feel pain so he knows when he's done damage to himself. The doctor says Darius needs surgery ASAP, he says one wrong move can even paralyze Darius and that if it was his call he would get Darius to a hospital right at that moment. Romeo tells Darius that he needs to listen to the doctor and have the surgery, he says the show has enough footage of Darius already and that they should leave. Rachel tells them that there's a reporter on the set that day and if he finds out something is wrong it could do real damage to Darius' career. Darius and Romeo agree and they say they will leave that night. And you can see Rachel start to panic right then and there.
Elsewhere on the mansion, the challenge of the week for the Everlasting contestants is a football game and they are, of course, playing basically in their underwear. Ugh, Everlasting, why do you keep doing this? Rachel and Jay argue about the role Darius should have on the challenge. Rachel knows that he can't play so she says he will be doing a play-by-play with Tiffany. Jay says that it doesn't make sense to have a professional football player as the suitor who they never show playing football.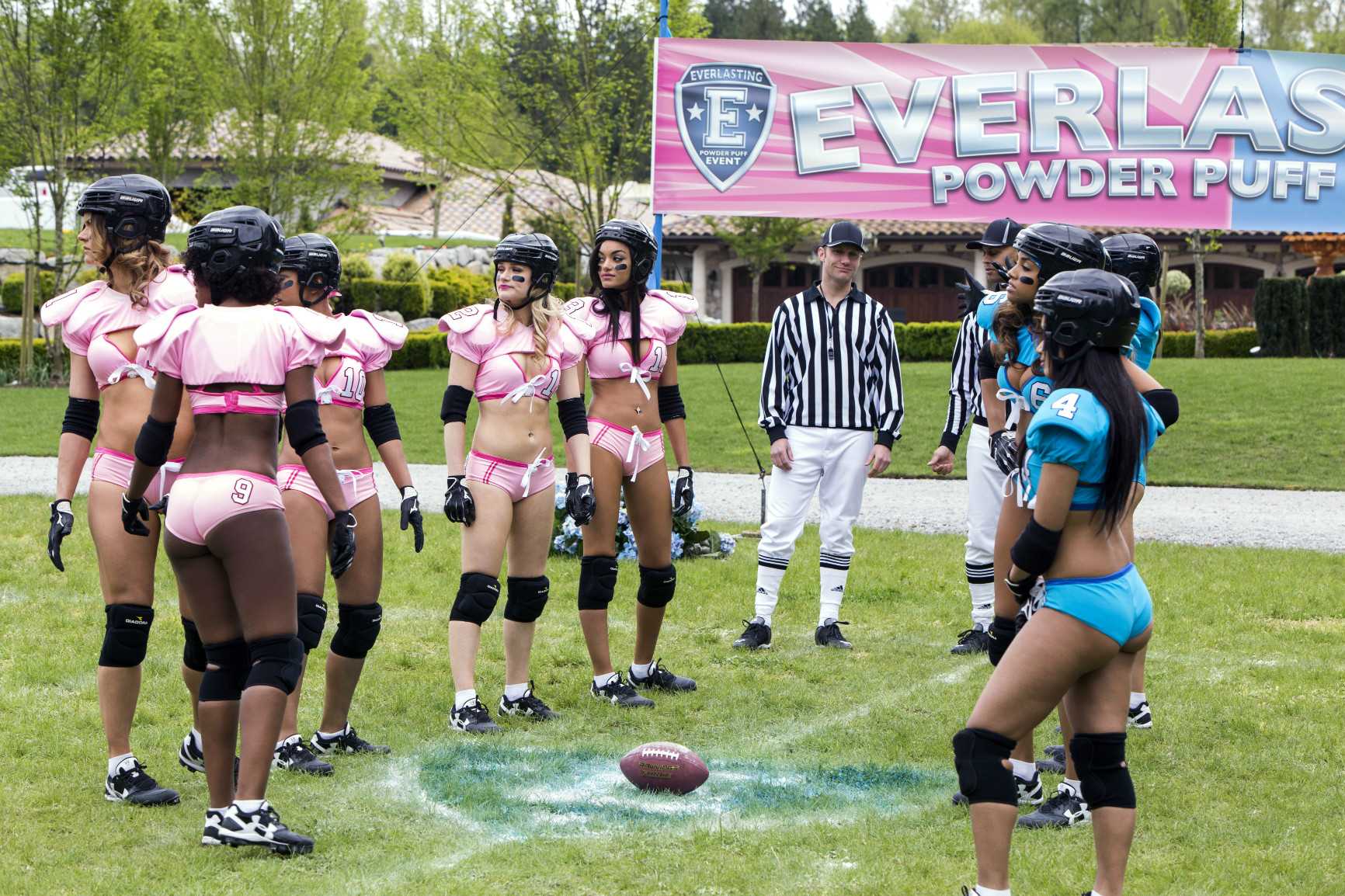 Photo by James Dittiger / Lifetime
Coleman asks Rachel what's going on with Darius and she tries to lie to him saying that everything is okay, but he sees right through her and tells her they need to be honest with each other and work as a team. This must be a refreshing change for Rachel, who smiles and lets him know about Darius' injury including what the doctor said. Coleman says he'll bring over a friend who is a doctor so they can get a second opinion.
Chet (plus baby) goes to Quinn's office to talk to her about her dad. Quinn looks totally disgusted when she sees the baby, and when Chet asks her if she wants to hold him, she says "That caterwauling ball of flesh is the result of you cheating on me with your wife. It came out of her vagina. So, no, I don't want to hold it." Ha! Quinn has the best lines and Constance Zimmer delivers them impeccably.
Jay then storms in the room telling Chet and Quinn that Rachel is not letting Darius play football but instead wants him commentating. He says Darius is in a suit looking like a certain children's show character.
Lifetime
This is a red flag for Quinn who immediately knows something is up. That woman really has a great radar for detecting trouble. She looks at footage and easily figures out Darius is hurt, and instead of trying to do what is best for him - because why would she do that - she creates a whole setup about purposely hurting Darius and having him taken away by ambulance to the hospital while girls weep around him. And if the show fails, it was on Coleman's watch and he's out. A win-win situation for her and Chet, and a horrible situation for everyone else, but who cares about other people and their careers? Certainly not Quinn or Chet.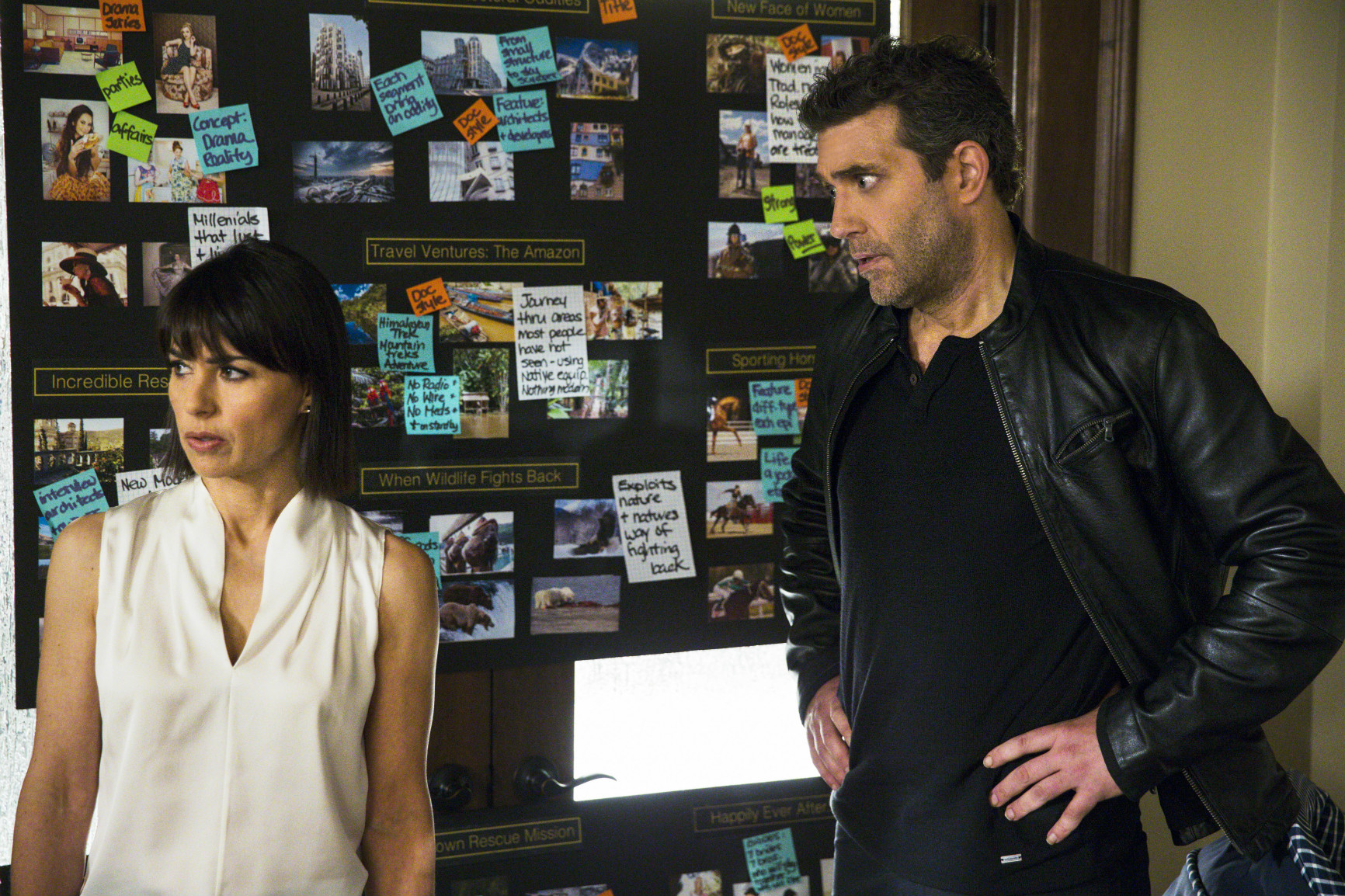 Photo by James Dittiger / Lifetime
So they go off into the field and Chet lets the girls know that they are going to bring Darius into the mix and he wants them to bring Darius down, in fact the girl who brings him down first will win a one-on-one date. I guess the girls are accustomed to that type of thing because not one of them doubts the validity of Chet's statement. Chet notices London is wasted - coaxed by Madison who's starting to become quite the manipulator - and asks to talk to her, so we know something bad is going to come out of that conversation.
Sure enough, London goes to Darius and pulls him off his chair saying that he needs to play with them, asking if he's scared to play with girls. All of this happens while the Entertainment Weekly reporter is there so Darius, in order to not create any suspicion or potential story from the reporter, agrees to play. As soon as he gets on the field, we know this will not end well for him. London runs over where he's standing and tackles him. When he's down, all the other girls start piling up on top of him. Darius can't get up, everyone is losing it and Quinn is smiling happily from the control room.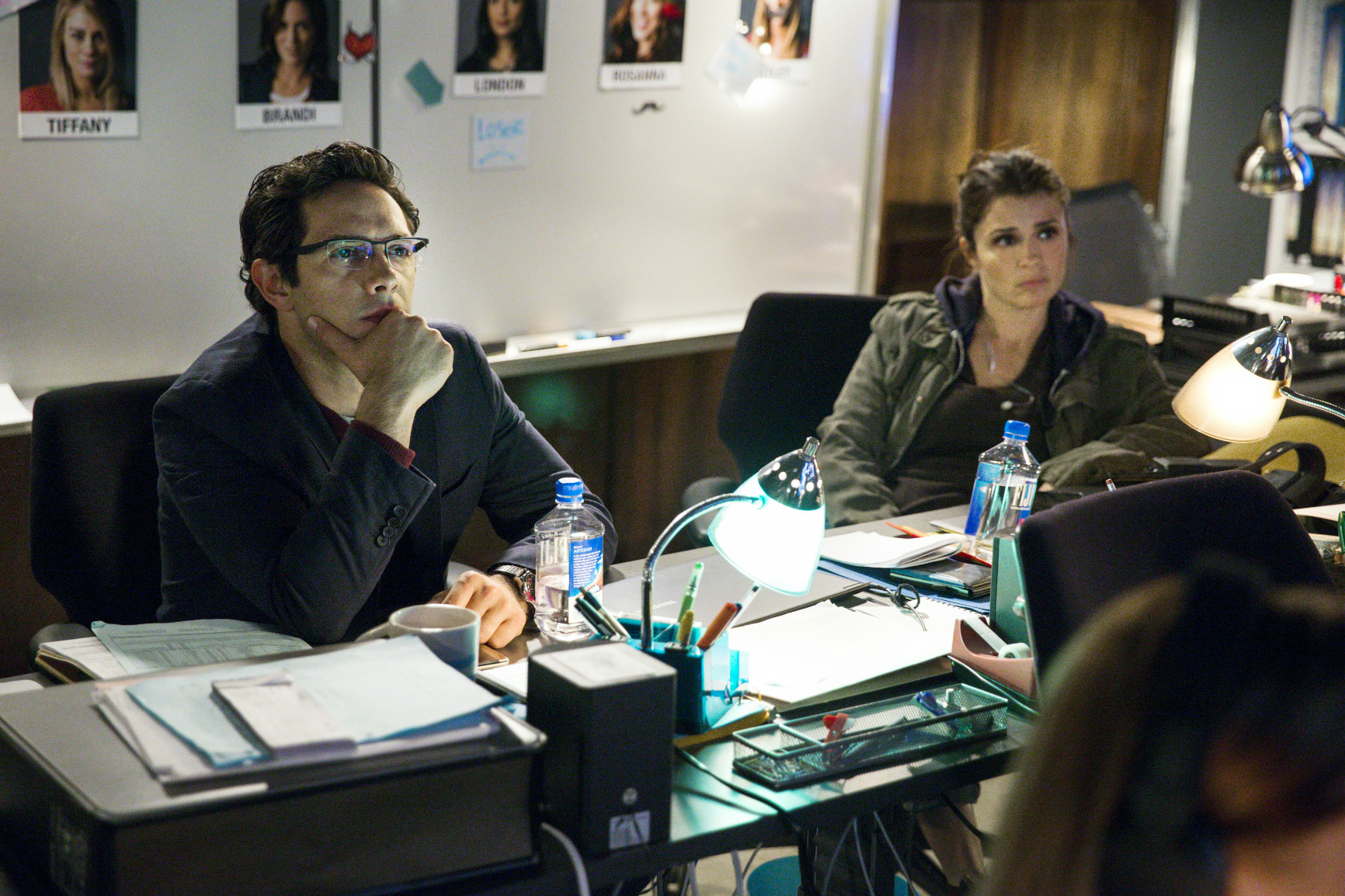 Photo by James Dittiger / Lifetime
Rachel tells Quinn she can't do this, that she will hurt Darius' whole career, what he's worked for his whole life. Quinn doesn't care. Coleman also tells Quinn that everything will blow up in her face, but she contests that on the contrary, since he's the showrunner, he will be the one in trouble when Darius is taken away to the hospital and the season is over.
Lifetime
Coleman's doctor friend arrives at the Everlasting mansion and Rachel goes to Darius' room and tells him that the doctor can give him an epidural. Darius reminds her what his doctor said earlier about him needing to feel pain, but she tells him everything Quinn is going to do with the footage she has, and that his whole career will be over. Rachel promises that she will not put him in any situation where he faces getting hurt. She also kind of throws Romeo under the bus, knowing that he would disapprove of the epidural, and tells Darius that Romeo is not the one who risks his life every week. Darius eventually agrees and we really hope that we don't see him in a wheelchair by the end of the season.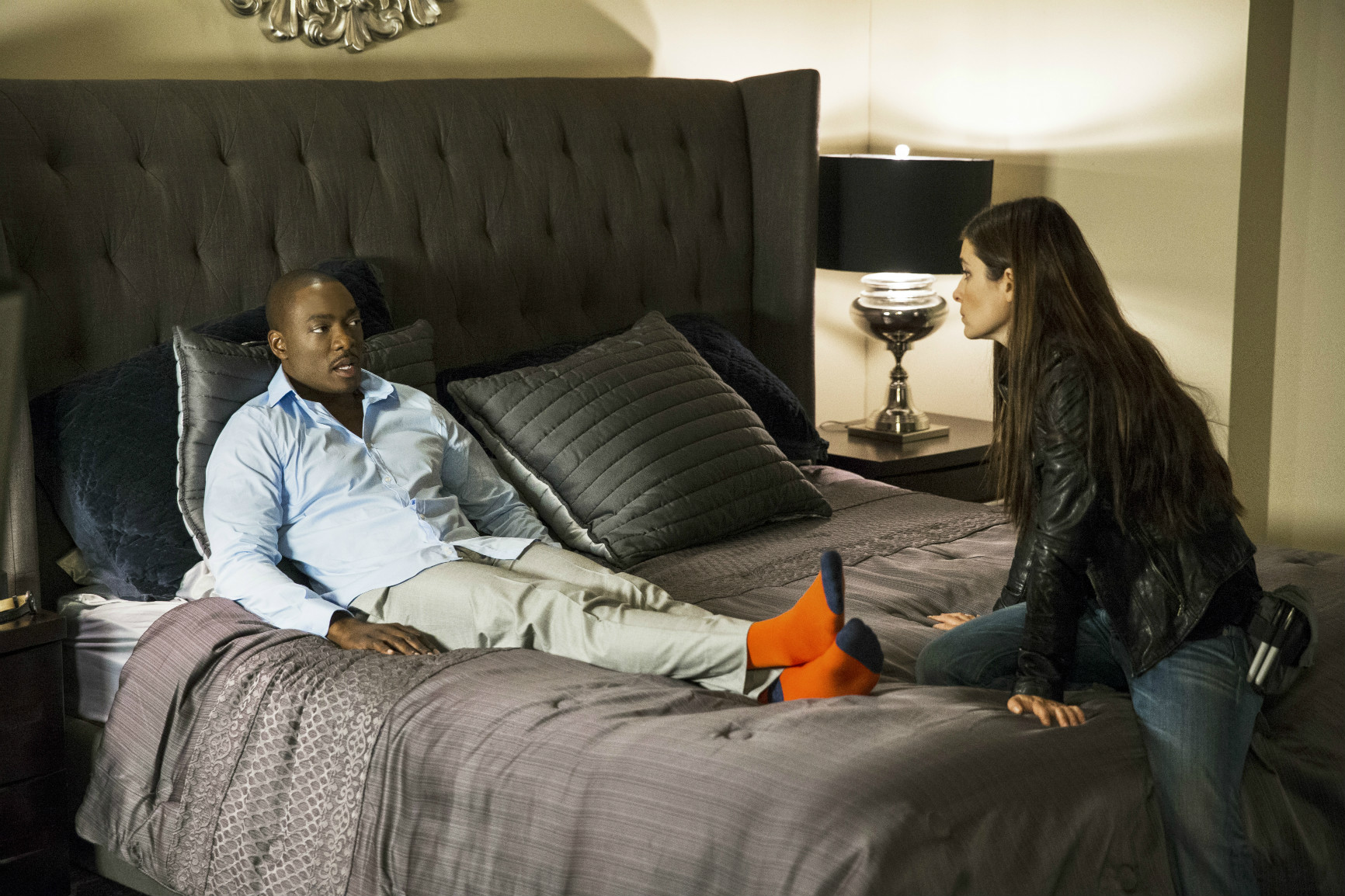 Photo by James Dittiger / Lifetime
The ambulance arrives and Quinn does her best to prepare the girls to cry when Darius is taken away, "as if Taylor Swift asked you to be a part of her girl squad and then changed her mind." Beth Ann, who of course is a Swifty, starts balling and others follow.
Lifetime
The gurney comes out but without Darius, who walks out looking dashing and tells the girls not to worry about him, he's totally okay. He then asks who the winner of the one-on-one date is because he has a date to get to. A totally drunk London approaches him but quickly throws up, so the date is pretty much over. Romeo takes Darius away and they start to argue because Romeo, who really seems to want the best for Darius, doesn't understand why he said yes to getting the shot. Romeo tells Darius that if he stays on the show he will not support it; Darius calls his bluff and fires him on the spot.
Lifetime
Afterwards, it's time for the elimination ceremony. Darius picks Ruby first and lets London go, along with four other girls.
Chet tries to convince Quinn to work together, and even get back together, telling her he's changed. But then we hear police sirens and soon the cops are there to take away Chet on grounds of kidnapping and child endangerment. Quinn looks on in disgust while Chet is taken away.
Yael, who was heavily flirting with Jeremy earlier, finds his truck and they start talking about Rachel. Yael wants to know more about Rachel but Jeremy says she won't tell her anything until he gets to know her better. So, clearly, they go in the truck to have sex. Why is Yael so interested in Rachel? Hmmm…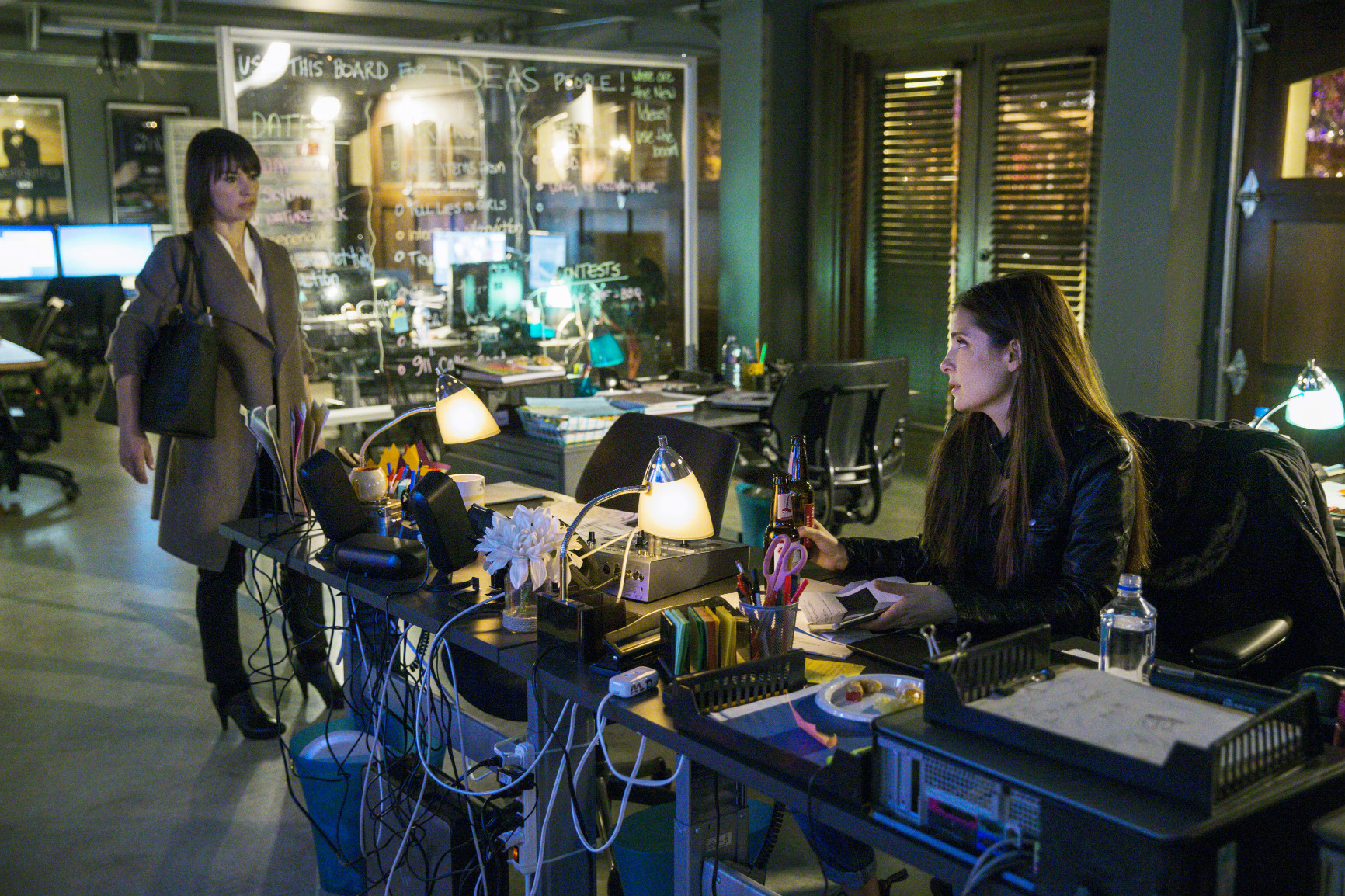 Photo by James Dittiger / Lifetime
Subsequently, Quinn and Rachel get into another argument in the control room. Quinn tells Rachel she's done with all the "garbage people" in her life: Randy (her father), Chet and her. Rachel looks sad and terrified at the same time.
Lifetime
Ruby, who witnessed Romeo's and Darius' fight, finds Darius and they start talking. I like them together; they seem real, if that's something that can happen to a couple on a show titled UnREAL. After talking, they begin kissing and then who knows because the camera pans out… although the Everlasting camera is right there, getting everything on tape.
The episode ends with Rachel going to Coleman and asking point blank, "Are we doing this, Wasserman?" He smiles and kisses her. I also like these two together so please Rachel, don't screw this up!
What did you guys think of Treason? It wasn't as gasp-worthy as the other episodes but it was a good one for sure, especially regarding character development. We know there's a storm coming and we can't wait.