OUAT's fourth season is due to return Sunday, September 28th and we at PopWrapped could not be more excited for it. Check out the trailer  for the
extended promo
here, and then leave before you can read my shitty commentary and unsolicited opinions. Or don't. It's your funeral. Now let's get into it! My questions are as follows:
Straight off the bat we know that Regina is out to have a certain woman 'removed'...but who is it? Elsa, for appearing in her town? Marian, for standing in the way of her love Robin Hood? Emma, for bringing her back? No one knows!
Who is Elsa telling she is the queen? No, honey. You're not the queen. Regina is. Please take several seats.
Will Regina make Emma pay for ruining her happiness yet again?
Why do the writers hate Regina so much? Why do they make her suffer so? I feel that, as an author, I torture my favourite characters the most, just to show them how much I love them. It's a sick, twisted, demented (and utterly satisfying) love. Perhaps it's the same for them?
Will Emma try to make it up to Regina, or will she stand by her decision to save Robin Hood's (previously deceased) wife?
Why are Elsa and Anna in Storybrooke?
Is Elsa antagonistic, or just a woobie villain like in the movie?
Will Robin stay with Regina or get back together with Marian? Or will this be a sister-wives thing? Polygamy?
What will Rumpelstiltskin do if Belle finds out he killed Zelena and did not give Belle the dagger?
What will Belle do if she finds out?
Has Snow White stopped being self-righteous yet?
Am I the only one who hated Snow as a kid?
How is Elsa related to someone on the cast, because everyone is always related to everyone in OUAT?
Will Emma stop fucking up Regina's life?
A press release
by the Bryke of fantasy drama live action TV shows, Edward Kitsis and Adam Horowitz, have revealed storylines we can expect in the first half of season 4:
Master storytellers Edward Kitsis and Adam Horowitz (Lost, Tron: Legacy) invite everyone to join Emma Swan, Snow White, Prince Charming, The Evil Queen, Hook and all the other resident fairytale characters as they prepare to defend themselves against a magical force from the past that's too unpredictable even for Rumplestiltskin – Elsa, the Ice Queen from Arendelle.

And now that Emma has brought back Robin Hood's wife, Marian, and possibly sparked the end of Regina's relationship with him, will Regina return to her old, evil ways and do everything in her power to get even? And newlyweds Belle and Rumplestiltskin continue to be deeply in love with each other. But Rumple is hiding a secret from Belle — one that, if found out, could destroy their happiness – he continues to be the master of the dagger that calls upon him to be the Dark One.

Can Emma and Hook commit to one another, and can these two damaged people take their love to the next level? Mary Margaret and David have a new baby, Prince Neal, and are looking forward to raising him into a proud, brave and loving adult. But they are still sad that they were not able to do this with Emma, instead helping her escape the curse when she was first born and not meeting her again until she was 28 years old.

Henry is very happy to have both of his mothers back in Storybrooke. But with biological mom Emma and paternal grandfather Rumplestiltskin's blood running through his veins, he will be tested by both the light and the darkness. Finally, Will Scarlet (Michael Socha, "Once Upon a Time in Wonderland"), a former member of Robin Hood's band of Merry Men, has traveled across many lands to make his way to Storybrooke. He finds himself intertwined in the goings-on in town for the first time as his mysterious past pushes him to an unknown future.
Honestly, I'm just here for Regina at this point. I want her to be evil again, I want the magnificent and deadly Cora back, and I want chaos and destruction upon Storybrooke. And I want more of Regina's fabulously witchy outfits.
I need Evil Queen, Sassy Queen, and Boss-As-Fuck Queen. I don't need anymore Broken Queen, because Happy Queen is Best Queen. Queen. When it comes to Regina, at least she's got the fandom.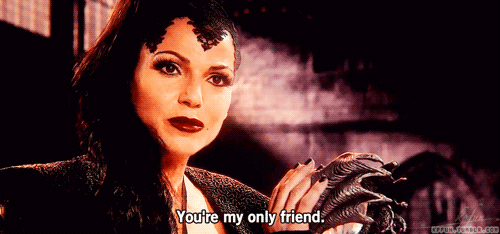 Courtesy Of Fanpop.com
Keep up with PopWrapped on the web!
Twitter SoundCloud Facebook Instagram Tumblr Pinterest YouTube