Urban Outfitters is a massive clothing company and recently claimed to have an original vintage sweatshirt from Kent State University. The brand got the piece up for sale, which does indeed seem to be a clothing antique, but is also blood-stained - later claimed otherwise. According to its description on the website: "Washed soft and perfectly broken in, this vintage Kent State sweatshirt is cut in a loose, slouchy fit. Excellent vintage condition. We only have one, so get it or regret it!"
Back in 1970, a massacre took place at the Kent State University in Ohio. During a demonstration against military action in Cambodia, the National Guard fired at students, turning it into a shooting scene. Four students died at the incident and nine were wounded. So how could it possibly be acceptable for the company to sell a trademark sweatshirt with blood spatters on?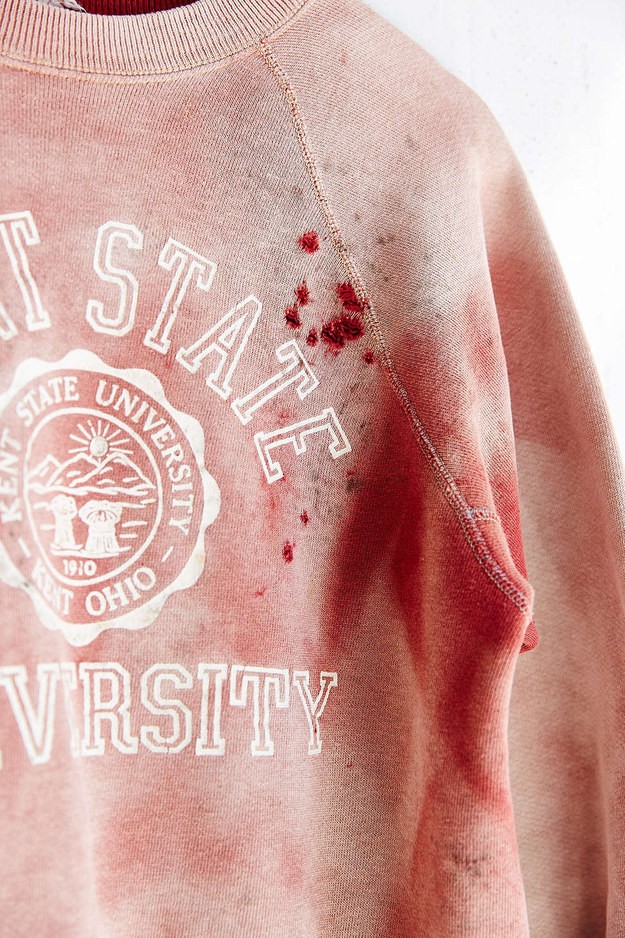 Courtesy urbanoutfitters.com
Twitter users did not hesitate to heavily criticize the brand for selling a blood-stained product, so it was recently made sold-out and Urban Outfitters apologized for the offense it might have caused:
"Urban Outfitters sincerely apologizes for any offense our Vintage Kent State Sweatshirt may have caused. It was never our intention to allude to the tragic events that took place at Kent State in 1970 and we are extremely saddened that this item was perceived as such. The one-of-a-kind item was purchased as part of our sun-faded vintage collection. There is no blood on this shirt nor has this item been altered in any way. The red stains are discoloration from the original shade of the shirt and the holes are from natural wear and fray. Again, we deeply regret that this item was perceived negatively and we have removed it immediately from our website to avoid further upset."
However, Kent State University did not take things so good and released a statement regarding the offensive sweatshirt. Part of it reads:
"We take great offense to a company using our pain for their publicity and profit. This item is beyond poor taste and trivializes a loss of life that still hurts the Kent State community today."
Keep up with PopWrapped on the web!
Twitter SoundCloud Facebook Instagram Tumblr Pinterest YouTube