Tarra Matthews
Senior Content Manager
@tlcm_16
It's very rare these days that I find myself listening to the regular radio, but the other day I heard a song on a local Toronto station and I haven't been able to get it out of my head since. Here, take a listen: This guy is AMAZING! That, PopWrappers is fellow Canadian Shawn Mendes. The song? "Life Of The Party," his debut single. This video has garnered over 2.5 million views in just four weeks. So as I do with my obsessions, I ventured onto the internet and found out as much as I could about Mendes. And let's just get the
Bieber comparisons
out of the way off the top, because they're bound to happen, especially considering their personal similarities and similar rises to fame. Mendes hails from Pickering, Ontario - just east of Toronto. His love of music started just a couple years ago, in his school's glee club. Shawn tried the YouTube root but nothing really came of it so he tried a different social media site:
Vine
. Mendes posted a 6-second clip of himself doing an acoustic cover of Justin Bieber's "As Long As You Love Me" and that's when it happened; Mendes' clip when VIRAL - amassing the singer 10,000
likes
 overnight!
"When I woke up and I had 10,000 likes on that video, I was like, 'What is going on?' Social media is taking off. It's an entire new world out there."
Since Fall 2013, Mendes' Vine following has ballooned to 2.9 million followers! Earning him a spot at this year's Magcon (literally Meet And Greet Con) with 9 fellow Viners.
From there, Mendes just kept posting and posting
covers
on Vine, "
I was so intrigued that people took these super popular songs and did them their own way. It really showed me the creativity, how every person sang it their own way and even how they would film and record it."
Shawn also entered and WON
Ryan Seacrest
's Covers contest back in March with his cover of "Say Something!" As his popularity grew online, the music business powers-that-be began to take notice. Shawn Mendes was signed to Universal Music Group subsidiary Island/Def Jam Records. Island Records President David Massey doesn't want the Vine stardom Mendes has to take away from his music abilities, "
The Vine part of it is the way that he got discovered, as a way that he built a fan base, which is absolutely wonderful, but what the results should send is
he's a serious star, and people are reacting and wanting to be very much part of his journey
."
And let's talk about that success for a moment. Shawn Mendes is the youngest artist (at 15) to have a debut single the 
Billboard
Top 25 with "Life Of The Party" debuting at No. 24 on the 
Billboard Top 100.
 That's not all either; Shawn's debut 4-song EP was released on Sunday (July 27th) on iTunes and, within 37 minutes of its release, 
The Shawn Mendes EP 
was No. 1.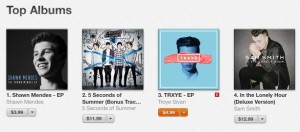 Courtesy of Mashable
Coupled with all of that, Mendes also hosted a 30-minute livestream for his fans to celebrate the release on Sunday that garnered 25K+ viewers and turned into Twitter's top trending topic thanks to his 1.5 million followers:
#ShawnToNumber1!
If you want to see Shawn live this summer, you're also in luck! Shawn Mendes has scored himself a spot on one of the hottest teen tours of the summer alongside Austin Mahone, The Vamps and Fifth Harmony across the U.S. & Canada. Check out his
official site
for all the dates! You can pick up "Life Of The Party" & 
The Shawn Mendes EP
on iTunes now! And check out the lyric video for "Show You" - just released TODAY on
Buzzfeed
!
Keep Up With PopWrapped On The Web!