Jason Wingreen was a prolific actor, who could be seen everywhere from Matlock to All in the Family to Seinfeld, passed away at his home on Christmas Day. He was 95 years of age.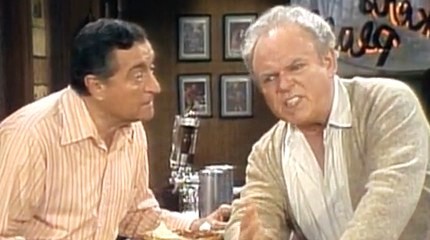 SitcomsOnline
While Wingreen's most famous role was likely that as the voice of bounty hunter Boba Fett in Star Wars, he had nearly 200 other acting credits to his name. He had a regular role on All in the Family and Archie Bunker's Place as Harry the bartender, and also had a recurring role as Judge Arthur Beaumont on Matlock. One of his most memorable on-screen deaths occurred while playing Dr. Linke in the Star Trek episode entitled "The Empath". It's been called one of the best death scenes in the original series' run.  Wingreen also had guest roles on popular shows throughout the 1990s, such as Seinfeld and In the Heat of the Night. 
The four lines of dialogue uttered by Boba Fett in The Empire Strikes Back are arguably the most famous of his career, and it wasn't widely known that he was one who spoke them until nearly 2000. Wingreen said that the "actual work" took "no more than 10 minutes", though he did not receive residuals for the role. Interestingly enough, he initially auditioned for the role of Yoda. 
It was Wingreen's role as Harry Snowden on the CBS shows All in the Family and Archie Bunker's Place that brought him into millions of homes. He played Snowden from 1976 until 1983, and joked that the steady role "allowed [him] to retire". In all seriousness, Wingreen loved the gig, saying:
I loved it, it was wonderful. We worked from Tuesday on to the rest of the week. Monday, you had [off], to go to the bank and the laundry. We'd arrive on Tuesday morning, we'd sit around, read the script. We'd start laughing in the morning and laugh until five o'clock, when we'd quit. I mean, how could you not like it?
Wingreen was born on October 9, 1920 in Brooklyn and raised in Queens. He had initially aspired to be a sportswriter, but was bitten by the acting bug after taking classes at Brooklyn College. He served in World War II, and founded the Circle in the Square theatre company upon his return. In 1954 he appeared in his first two Broadway plays, The Girl on the Via Flaminia and Fragile Fox. He continued acting until his retirement in 1994, after an appearance on In The Heat of the Night. 
Wingreen is survived by one son, two grandchildren, and his sister. Our thoughts and sympathies are with his friends, family, and loved ones during this difficult time.